Jazz Piano Lessons Online From A World Touring Pro
Join over 60,000 students who learn jazz piano with us each month.
Enjoy the world's best jazz piano lessons in the comfort of your own home.

Get Your Free Jazz Piano Toolkit
"Get 5 Powerful Video Lessons Sent To Your Inbox - FREE"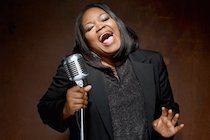 "Steve is truly unique in his style. He is devoted to helping each student's creativity."
- Shemekia Copeland (Grammy Nominated Blues Vocalist)
Featured Videos - Learn Jazz Piano
Learn Jazz Piano From A Pro
Have you always wanted to incorporate jazz into your playing? Or maybe you're already a jazz musician who's looking to take your playing to the next level? Perhaps you're interested in jazz piano chords, jazz transcriptions, licks, jazz piano lessons, or jazz improvisation. Either way, FreeJazzLessons.com is the answer!
Welcome to our jazz piano school - we're glad to have you! If this is your first time here, please take a moment and watch our welcome video below. If you're a returning user, check out "The Newest Lessons" at the right side of this page, where you'll see the latest and greatest jazz piano lessons from Steve Nixon and FreeJazzLessons.com.
Jazz Piano Lessons
Ready to take your jazz piano playing to the next level? One of the most common jazz chord progressions is the II-V-I.
Study the ii-V-i in Minor jazz piano lesson to begin mastering this important concept. Add to your vocabulary with transcribed lick lessons from jazz legends like Bill Evans, Oscar Peterson, Chick Corea, Herbie Hancock, Sonny Clark, Charlie Parker, Diana Krall, and many more.
Free Jazz Piano Lessons
FreeJazzLessons.com offers everything you need to learn how to play jazz piano online. Everyone, from beginners to advanced players, will find helpful resources to improve their jazz piano playing. Check out the lessons to the right for free jazz piano lessons on jazz standards, jazz chords, jazz scales, turnarounds, piano transcriptions, blues, and much more.
Blues Piano Tutorials
Want to learn how to play blues piano? Hall of Fame Blues Pianist & #1 jazz piano educator Steve Nixon reveal years worth of blues piano secrets in the Breakthrough Blues Piano Method. You can explore the Breakthrough Blues Method right here.
Newest Jazz Piano Lessons
How To Learn Jazz: A Beginners Guide
Since I started this site I've received numerous emails from readers asking me the best way to get started learning jazz as a beginner. This is the type of article I wish I had when I first started learning this amazing style of music. Read more about ---> how to play jazz for beginners
How To Play A Jazz Blues Chord Progression
In today's free jazz blues chords lesson we're going to take an in depth look at some jazz chords you can add into your blues playing. These chords will make your blues sound way more interesting. 
Players like Oscar Peterson, Diana Krall, Herbie Hancock, Wynton Kelly, Bud Powell, Gene Harris, Ray Charles, Brad Mehldau, and hundreds of other great jazz musicians made this blues chord progression famous. Read more about how to play jazz & blues chord Progressions
How To Play A II-V-I-VI Chord Progression With Jazz Piano Chords
Are you looking for information on some cool jazz piano chord progressions? Congratulations. You've come to the right place! There are tons of free lessons and articles on jazz piano chords on this site. Make sure you bookmark this site and let's get to learning! If you're interested in exploring jazz harmony then check out this article. Read more about how to play a II-V-I-IV jazz chord progression
One of the best ways to really improve your skills is to get your jazz theory chops together. That's why every article and video on this site is filled with tons of jazz theory tips to help you find all the shortcuts you need to learn this amazing style of music.
If you're new here I highly recommend you subscribe to our free email list as well. You'll get tons of new articles and videos sent right to your inbox. Have fun practicing!
Stella By Starlight Jazz Chords Tutorial
Ready To Take Your Jazz Piano Skills To The Next Level?

A Rich Jazz Piano Chords Library
Essential Jazz Song Tutorials 
Beginner, Intermediate, & Advanced Lessons
Full Notation Of Every Song
MIDI Files & Chord Charts
Tons Of Helpful Text on Screen
In Depth Monthly Improv Course
Killer Licks Library (new licks added every month)
Step By Step Reharm Lessons
Pro Jam Tracks (new jam tracks & new tunes every month)
Comping & Jazz Rhythm Patterns
Brand New Lessons Updated Every Month.
Multiple Month Discounts
& Much More…