Jazz Harmony: Learn This Cool Chord Progression Trick
Would you like to learn more about jazz harmony? Want to learn a cool move you can use to spice up hundreds of the songs you play?
Well, you've come to the right place! In today's jazz harmony lesson I'm going to teach you a really tasty way you can reinvent the #1 chord progression in jazz.
I've made a free video for you and I'll show you how to use this jazz harmony move inside the famous jazz standard, "Blue Bossa".
How To Unlock Your Jazz Harmony Skills
Free Jazz Harmony Video Lesson
Watch the video below. I'll show you step by step how a simple shift can reinvent the #1 jazz chord progression. 
(I have tons of great harmony moves like this that I want to show you inside "Platinum Players." By the way, you can learn more about the HUGE collection of trainings you'll get access to inside "Platinum Players" at the bottom of this article.)
Tips To Get More Out Of This Jazz Harmony Lesson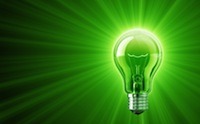 The 2-5-1 chord progression is by far the most popular chord progression in jazz. You'll find it in almost every famous jazz standard.
With that in mind, the more things you can do to reinvent this chord progression, the more way ways you can personalize almost every jazz song you play!
That's why learning this simple ii chord shift I teach you in the lesson above can add all kinds of sophistication and new colors to your music when you use it.
Great jazz pianists have hundreds of different ways of playing and reinventing this classic chord progression.
As a matter of fact, the more ways you can reinvent a ii V I chord progression, the more you'll be able to express yourself at the piano.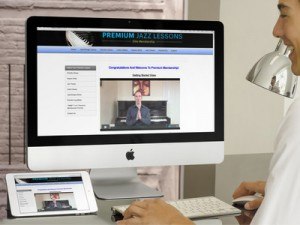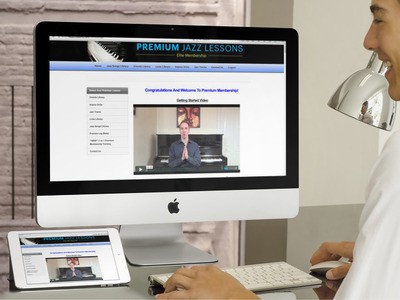 (By the way, if want to learn how to play "Blue Bossa", the tune I demo in the video above, then check out my Premium Jazz Lessons Membership Course.)
2 Great Players But A Completely Different Sound
This is one the reasons why you'll hear 2 great players play the same tune and it will sound completely different.
For example, lets listen to a couple examples of famous players playing "Blue Bossa" (the tune I demonstrate in the lesson above.)
Listen to this example of Tommy Flanagan playing the tune. Then, compare it to the way Chick Corea & Bobby McFerrin sounds on it…especially when they start improvising.
Listen to this example of Tommy Flanagan playing the tune. Then, compare it to the way Chick Corea & Bobby McFerrin sounds on it…especially when they start improvising.
Same chords but completely different sound! Tommy sounds awesome on it but he's using mostly the basic chord changes. Not a ton of reharmonization.
https://www.youtube.com/watch?v=zI6d2304–4
Now, listen to Chick reinvent the ii V I in all kinds of cool ways. One of my heroes. 🙂 Take a listen!
It's amazing all the things you can do with a ii V I and a deeper understanding of jazz harmony. Now, check out all the cool stuff that's coming in the next couple weeks…
Here's A Sample List Of The Things We'll Explore Inside The Jazz Platinum Players Program
I have a whole system we'll be covering inside the program. Plus, every lesson will be taught live so I'll be personalizing each session for the needs of every student.
An incredibly deep learning experience. Here are some of the topics we'll be covering…..
 Ultimate Jazz Scales Secrets Masterclass.
Weekly Live Training Where You Ask Me Questions LIVE.
Jazz Improv Secrets Webinars.
Personal Feedback From Me Via Video. (Yes! I'll be personally reviewing performances & giving you the direct solution you need to help you bring your playing to the next level.)
"The Jazz Theory Fast Track Method."
Jazz Comping Secrets Of The Masters" Training Module.
The Famous Chord Voicings Training Module" (Featuring chords made famous by Oscar Peterson, Bill Evans, Chick Corea, Bud Powell, Wynton Kelly, Thelonious Monk, and more.)
My Method For Learning Music 500% Faster (Maximize Your Time!)
"Solo Piano Arranging Secrets."
"How To Transform A Basic Fake Book Chart Into A Sizzling Pro Jazz Arrangement."
"How To Jazzify Any Popular Song" Training Webinar.
A Great Library Of Jam Tracks Featuring Pro Bass & Drums.
Practice Accountability Clubs.
I can't wait to work with you and really help you get your piano playing sounding great.
We're now less than 2 weeks away from the release. But, I'll have some other cool free training to share with you in the next week as we get closer to launch!
More Sample Videos To Celebrate Platinum Players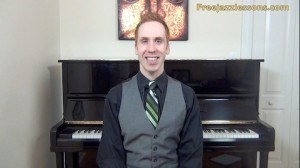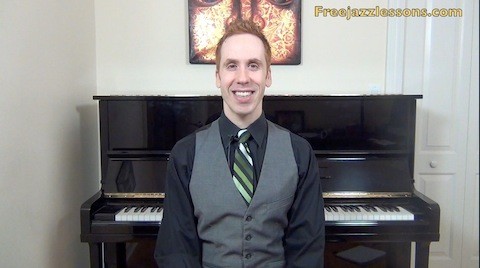 As I mentioned in my last video on jazz comping, every time I release a new program I want to make sure that I'm providing as much value to this amazing jazz piano community as possible.
So, I like to release several free lessons and short actionable videos to help students learn jazz piano.
So, next week I'll be posting another free video again. I'm going to show you some great patterns you can add to your playing toolbox that will really expand your jazz improvisation skills.
You'll hear so many great players use shapes like this. So, I'm excited to introduce you to this concept.
Keep watching this site for the new video. If you're on the FJL email list I'll actually email the lesson right to your inbox. I like to make things easy for you!
In the meantime check out today's jazz harmony video. Try out this chord move, throw it in on Blue Bossa or any other tune you love. Have fun!
P.S. If you have questions about today's mini video lesson or the "Platinum Players Program" please leave a comment below. I look forward to helping!