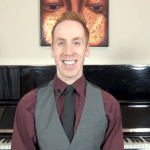 Alright, so how do you really learn jazz piano.  Lets dig in and really begin to answer how to play jazz piano.
Since I started this site I've received numerous emails from readers asking me the best way to learn jazz piano and get started learning jazz as a beginner.
My Learn Jazz Piano Journey
For jazz beginners this beautiful style of music can seem intimidating and hard to tackle.
Don't worry though. You're not alone! I remember feeling the same way myself as a young musician while listening to great jazz musicians. I would sit in my basement and just listen over and over again to people like Charlie Parker, Herbie Hancock, Wes Montgomery, and others. How did they play jazz like that??
I was so amazed by how they sounded but I had no idea what they were doing to get that magnificent sound. I constantly wondered where I could I even begin to sound like these guys?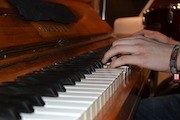 Now, many years later as a pro musician I look back on those uncertain times and wish I had discovered a clearer direction when I started.
So, in order to help the beginner jazz piano students out on their own path to growth, I'd like to discuss some core components of what you need to begin to play this wonderful style of music.
Hopefully this will give you guys a more focused start on your journey of learning how to play jazz piano. This is the starter guide/advice I wish I would have had as a newbie. Let's get to learning!
Step 1: Learn Jazz Piano Standards – The Start
Learning how to play jazz piano is truly like learning any new language.  Every time you learn a new "word", or in our case a new chord, lick, or a new scale,  it becomes a piece of vocabulary you can then use in a sentence.
Now, of course learning new "words" is important to any language but if you don't know how to construct and speak a full sentence it will always be hard to communicate.
To continue with our metaphor, learning jazz tunes is the equivalent of us truly being able to speaking in sentences. Once you know tunes then you can apply any new musical idea you learn to jazz songs.
So, the first step should be to spend some time actually learning some jazz tunes. A good starter point for any new tune is to just start by learning the melody and the chord changes.
Jazz Tune Suggestions To Start With
You can start and learn jazz tunes like Satin Doll, Blue Bossa, Misty, Autumn Leaves, All The Things You Are, or Fly Me To The Moon, etc.  If you need more ideas of beginning jazz tunes I would recommend you read this beginning jazz standards to learn article.
You should also check out this discussion of jazz fake books where we discuss some of the best fake books to learn from.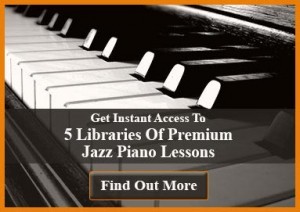 We've also created an exciting course that teaches you how to play pro level jazz piano no matter what level you play at.
You can explore that course right here.
Step 2: Aural Tradition and How To Learn Jazz Piano Vocabulary
We've discussed this before in our switching to jazz from classical article. The approach you take to learn jazz piano is very different than classical. All the notes are written out in classical music. In jazz some of the notes are written out but alot of the style of jazz music needs to be learned by ear and listening.
The true essence of playing jazz piano is transferred by listening and by mentorship. It's very important that you invest your time into figuring out what you're hearing.
How To Figure Out What You Hear
Spend time figuring out the things you love on your favorite recordings.
You don't have to figure out a whole album of material you like.  You can start very simple. Just figure out 2-4 bars of something you really enjoy. In a perfect world this would be on a song or chord progression you are already are familiar with.
To help me study things more closely I like to use a music loop and slow down program called Transcribe. I use it on a daily basis and I find it very helpful to study faster or more detailed music at a slower and more manageable tempo.
Listen closely for things like note choices, articulation placement of rhythms, syncopation etc. This kind of stuff can be very different than classical. Especially when it comes to beat placement and where accents are played.
Should You Write Everything Down?
It's not required that you notate everything you hear to play jazz. But, it's important that you can at minimum play along with the recording in time. If it's too fast for you to play along with at full speed use Transcribe to slow the recording down for you.
On a final note, please keep in mind that when you play jazz, rhythm and articulation take on a much greater significance. Never forget that. It's not just the notes, it's how you rhythmically play them. As Duke Ellington said, "It don't mean a thing if it ain't go that swing!"
Step 3: Jazz Piano Theory Concepts
It is also very useful to spend time learning more about jazz theory. Learn some common chord progressions. Even if you're not a piano player knowledge of chords will be very helpful. This is definitely part of core jazz piano basics.
Learn some fundamental jazz piano chords and some chord voicings. A good place to start would be these chord lessons on shell voicings, rootless minor voicings, rootless dominant voicings, or even a I-VI-II-V-I chord progression. You can even start by learning some solo piano chords.
By the way, one the biggest mistakes that newbies make is to try to learn jazz piano from a beginner jazz piano book. This is a classic mistake and one that will cause a lot of pain and bad habits later.
You never hear of any great jazz pianists who learned how to play from a book.  It's just not how the style is best learned.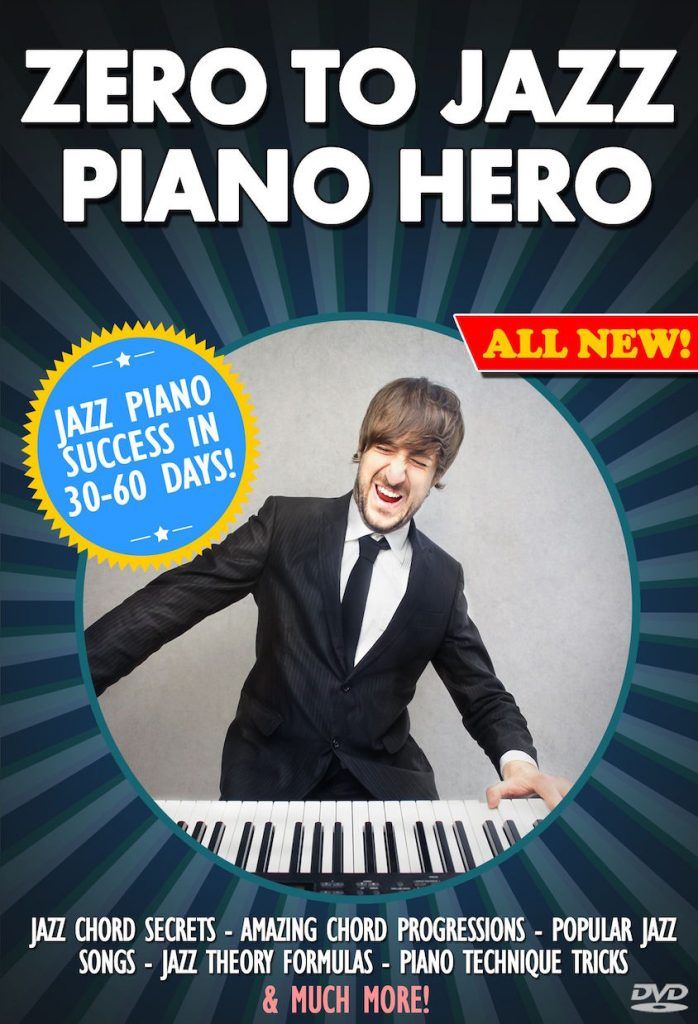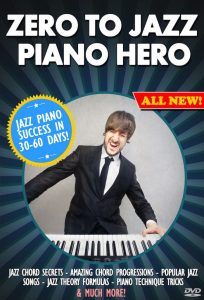 In my Zero To Jazz Piano Hero course we do have lots of sheet music to aid in the learning process. But, the real magic happens from watching and listening through videos and fun exercises.
Step 4: Start To Acquire Some Jazz Vocabulary
One of the best ways to really learn jazz piano is to study the licks of master jazz musicians. Jazz is an improvisational artform. So, it's essential that you learn to improvise over common chord progressions and famous jazz tunes.
A good place to start is to learn a few II-V-I (2-5-1) licks. It's the most common chord progression in jazz.
There are tons of licks from the jazz masters to learn as well. You could start with this Barry Harris lick, or this Bud Powell Lick, a Charlie Parker lick, a Red Garland lick, or even a Bill Evans lick.
Or maybe you want someone to show you step by step how to become a better jazz improviser?
We have a step by step course that shows you mind blowing jazz improv techniques. We feature great artists like Herbie Hancock, Chick Corea, Horace Silver, McCoy Tyner and more. You can check out the jazz improvisation course here.
Here's a sample video from the program.
Step 5: Building Your Own Jazz Improvisation
What do you once you learn some licks and chords? Make sure you spend time figuring out what makes each piece of vocabulary work. How are they built? What are the building blocks? What are the core components?
Get to the essence of each piece of vocabulary. Then, use them as a springboard for coming up with your own licks.
By coming up with your own vocabulary you're essentially finding your own voice within the jazz tradition.
At it's highest level jazz really is about personal expression.  So, analyze, understand, imitate, and then reinvent.
I always recommend you start by listening to the  jazz playing of legends like Herbie Hancock, Bill Evans, Oscar Peterson etc. etc.
If you're musical ear isn't great yet but want to learn how to play like them we have you covered. You can check out our step by step courses right here . You're in for a treat. Welcome to playing jazz and enjoy the ride!
*******
Now that you've made the great decision to learn jazz, what will you jump into 1st? If you're already have some experience what will you learn next? Did you enjoy this intro to jazz piano? Please leave a comment below and let us know!
If you are new here please remember to subscribe to the free jazz lessons email list right below this article.  You'll be receive all the latest and greatest jazz piano lessons right in your inbox. We look forward to helping you learn jazz piano for many decades to come. Thanks for reading!