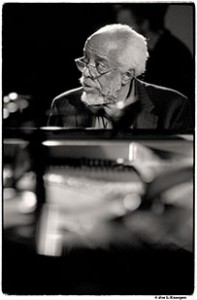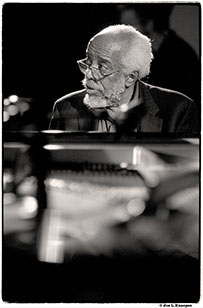 One of the best ways to really learn how to play jazz is to listen and study the playing of the masters.
So, in today's free jazz lesson we're going to do an in depth study of a Barry Harris solo.
Barry Harris took this solo on the tune "Moose the Mooche". The chords to this tune are played over what's called "a rhythm changes." (transcription and free lesson below)
Essentially, the chords of this tune are the same chords as the George Gershwin song "I Got Rhythm."
Many jazz songs have been written over this same Rhythm changes chord progression. Tunes like Anthropology, Oleo, Cotton Tail, Straighten Up and Fly Right, and many others.
Since, this chord progression is so popular and is called all the time at jam sessions it's a great idea to really learn how to play it well. So, let's get started learning how to do that from Barry!
Here's the recording of Barry playing it. He starts soloing at 34 seconds.
Here is the notation of the rhythm changes solo. Be sure to check out all the additional tips, jazz transcriptions pdf goodies, and analysis below!
(click to expand and print)
(You can print out a .pdf file of this solo to study it more closely. Feel free to share this page/lesson as well! The only thing I ask is that you link back to the site in return.)
3 Things We Can Learn From This Barry Harris Transcription
Let's now discuss some of the awesome things we can learn from this solo.  There are literally hundreds of cool things in this solo but we'll just pick a few.
You can turn almost everything in this solo into an exercise or study. We will also talk about how to apply all these tools to your own music. Let's get started!
1. Major Scale Can Be Your Friend If You Know How To Use It
Even though the chords to this tune are going by quick (every two beats) you don't have to specifically hit every chord. As you can see through the first 3 and a half measures Barry just uses simple major scale ideas from the Bb major scale.
How To Practice: Loop a I-VI-II-V-I (1-6-2-5-1) chord progression over and over practice playing simple riff ideas using the major scale. You can even copy a Barry Harris lick and use it yourself.
If you need some good chords to play while you're soloing check out this lesson on piano chords.
2. Learn How To Start Your Phrases On Many Different Beats
Barry is truly a master at starting his jazz lines on different beats. He can take classic bebop licks that everybody plays and start them in unusual places. It makes his phrasing and playing sound so fresh. Specifically he varies the start of his phrases constantly.
How To Practice: First, find 4 or 5 phrases that you really like the sound of. Practice playing just the rhythms of these licks and put your own notes on top.
Playing jazz is just as much about playing good rhythms as it is about playing correct notes.  Great phrasing is part of great rhythm!
3. Approach Patterns Can Get Your Motor Running
Barry uses a lot of chromatic motion to really get his lines moving forward. We can figure out some of the ways Barry uses this concept and add it to our own particular brand of musical tricks 🙂 .
One particular technique Barry uses alot is something called an approach pattern. An Approach pattern is a series of chromatic notes that are either above, below, or circles a note of resolution.
When you play an an approach pattern instead of the normal expected note it delays the resolution of the line. This can really extend the length of your riff and licks and will also help you string together different musical ideas.
One example is measure 30 on the Ebmaj7 chord beat 1.  Your ear expects beat 1 to be an Eb but Barry delays the resolution by playing 1 note above (F) the note and one note below (D) the note. He eventually resolves it on beat 2.
How To Practice: Take this one note above, one note below, and then resolution concept and try to apply it to any of your favorite jazz standards. You can come up with ideas that target any chord tone.
First start with the root of every chord, then the 3rd's, then target the 5th's, etc. etc.
Examples of Approach Patterns
You can see and hear approach patterns being also being used in this Red Garland transcription and this Barry Harris Green Dolphin Street Transcription.
If you would like to see some more examples in licks you should definitely check out this Charlie Parker lick video lesson and this Wynton Kelly lick video lesson.
Want More Jazz Transcriptions & Learn How To Improvise?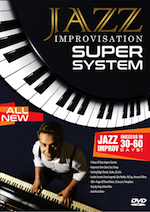 Now, if your short on time no problem. There is a special method that lots of famous players have used to build great jazz chops.
It's a rare collection of 6 hours of assets.
Over 6 hours of "over the shoulder" videos.
Complete jazz piano transcriptions of songs and solos with both hands written.
1000's of scales, licks, chords, and finger patterns.
Step by step improv training.
If you want to build better technique today then plain and simple this works.
Fleetwood Mac's keyboard player swears by it. Paul Shaffer from David Letterman's band endorses it too.
Check out the system here —-> Jazz Improvisation Technique Building System
Your Next Steps To Improvement
We've only discussed a few of the jazz improvisation concepts Barry Harris plays on this solo. Regardless, you could just take a few of the ideas we've discussed and turn it into an incredible amount of licks and improvisational ideas.
And again, even though this transcription is over a Rhythm changes chord progression, you can apply these improv techniques to any jazz standard.
When you study a master like Barry Harris or any jazz transcriptions pdf you can really grow your playing.
Remember to take your time when you study a jazz transcription. A well played solo is really a map and a guide for you.  If you really dig in and study it properly it can change your playing forever. Thanks for reading and enjoy!
Are there any transcriptions you've done that have really helped your playing? Please leave a comment below and share with the community.
******
If you are new here and would like to receive more free jazz lessons, articles, and transcriptions in your inbox please subscribe to the free jazz lessons email list.
The sign up form is on the right side of the website. Have fun and see you on the inside!