If you want to learn Misty chords to the jazz standard Misty then you've come to the right place!
Ok, so as promised I charted out the chords for the jazz piano video lesson I made on reharmonizing Misty.
If you haven't seen the video check it out here: Misty reharmonization lesson.
Thanks to Bill Evans and Oscar Peterson for their inspiration.
Original Misty Chords (with melody)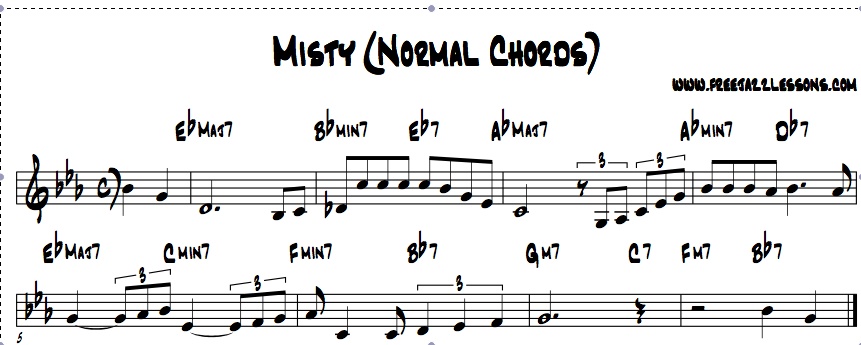 Here is the chord chart for the reharmonized chords.  As you can see there is a lot of inner voice motion, delayed resolution, tritone substitutions, and some other voodoo stuff. 🙂
Make sure you watch the performance and lesson on these new Misty chords below.
Reharmonized Misty Chords
Hope you all enjoy the reharmonization video and the chord charts. Let me know if there are other tunes or jazz lessons you guys would like me to dive into?
Update: I just did a whole reharmonization lesson on the chord changes to Here's That Rainy Day. Check it out! 🙂
You can also immediately access over 16 hours of tunes, chords, and reharmonization secrets in this jazz piano course right here.