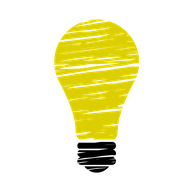 Ready to learn how 2 jazz masters would play the Fly Me to the Moon piano chord progression?
Well you're in the right spot my friend! (free video lesson below)
In today's fun new video you're going to learn how jazz masters Bud Powell and Bill Evans would play the first 8 bars of the tune.
I know you're going to have a lot of fun with this one…
Why This Free Fly Me To The Moon Piano Lesson Is So Special
This video tutorial is another free lesson to celebrate the release of my brand new training program. It's called…
I created the "Zero To Jazz Piano Hero" program after hearing from thousands of jazz piano beginners over the years.
You've told me about your pain, your frustrations, and challenges you've had trying to learn jazz piano.
I listen closely! And you've told me that many of the programs, books, and 'jazz gurus' out there assume you have a ton of jazz skills already.
And this has frustrated the heck out of you! And that's not the best way for you to learn.
I deeply felt your pain because I also felt frustrated when I was first started learning jazz too.
Update: The Zero To Jazz Piano Hero Program has been released! You can grab your copy by clicking right here
A Breakthrough Path For New Jazz Pianists
So,  I wanted to create something new and special that would make the learning process faster, easier, and more fun for you.
Learning jazz piano is not supposed to be hard. It should be fun, easy, and motivating to learn.
And so I created "The Zero To Jazz Piano Hero" Program.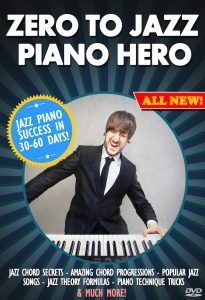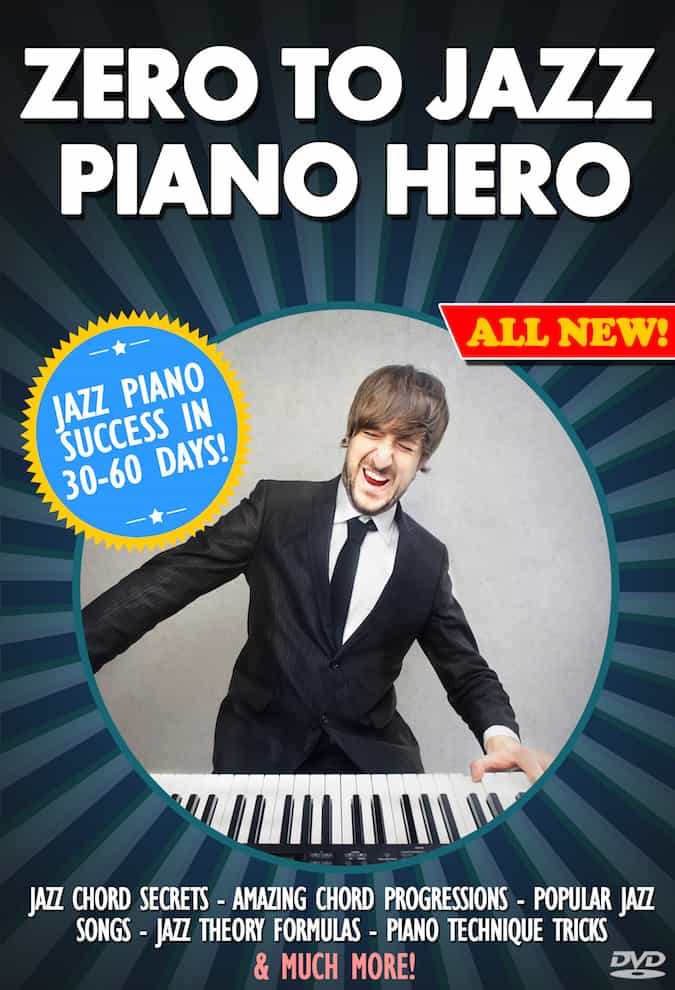 This special 2 DVD set was designed to take you from step 1 of jazz piano all the way to play famous songs, tasty jazz chords, must know chord progressions, improved piano technique in only 30-60 days.
1. Do you still feel like a beginner jazz piano player or have you not made enough jazz progress yet? 
2. Did you start out by playing classical and are now finding it difficult to play jazz well?
3. Perhaps you have a pop, country, rock, or gospel background and you've always wanted to get some of those amazing jazz harmonies and rhythms under your hands?
4. Or maybe you're self taught and have always felt like something was missing in your playing and you're looking to fill in those gaps and pain points?
How Jazz Piano Beginners Find Success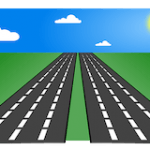 Then, this is the program for you. I've made the learning process easy for you. A crystal clear path using a proven method.
And yes, this is the same system that helped me get into the Berklee College Of Music and start gigging too!
95% of jazz newbies and piano players don't know these techniques. And those that do rarely share them.
So, I'm very excited to be able to show you how to play all these amazing techniques. Enjoy today's free vid and get started learning these Fly Me To The Moon piano chords.
Fly Me To The Moon Piano Tutorial Video
 Take a few minutes and watch as I show you how to how 2 jazz masters would interpret these classic fly me to the moon chords. They're easy to play and sound awesome.
5 Important Tips For Mastering This Fly Me The Moon Piano Lesson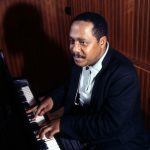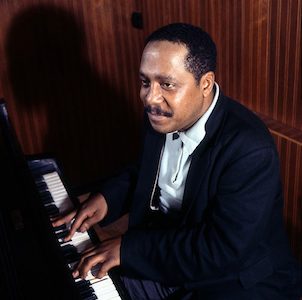 1. How Simple Chord Voicings Can Sound Ultra Cool
Notice how the 2 note shell voicings I teach in the Bud Powell section still sound good? Even though they don't have a ton of chord extensions they still really sound jazzy.
These type of voicings are a signature sound of the bebop era.
2. How I Get A Smooth Sound Moving From 1 Chord Into The Next
In the Bud Powell section you'll notice how my left hand doesn't move a real lot. Not only is this physically easier to play but it also sounds better from a voice leading perspective.
To put it simply, when chord voicings don't jump around a lot this can help your chords sound ultra smooth. I first learned this technique from playing Bach pieces as a younger musician.
I discovered that the jazz masters all used this techniques in their jazz chords too. This is pretty awesome if you think about it!
3. Bill Evans Style Rootless Voicings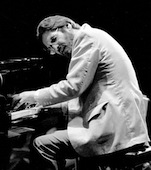 Did you notice how leaving the roots off the chords in the Bill Evans section completed changed the mood and feeling of the chords?
There are lots of reasons why but 1 thing that clearly changes things is where you play the chords on the piano.
Shell voicings tend to be lower than rootless voicings.
4. How I Use Rhythm To Add Flavor
Another cool technique you should listen for is the way I add syncopation into the melody. This helps bring energy and excitement into the performance.
Most lead sheets have Fly Me To The Moon written out just in quarter notes. This can be kind of boring. So, I always recommend students add in syncopation and start adding in swing rhythms.
By the way, inside the new program I'll teach you the rhythms I use to reinvent bland lead sheets.
They're easy to learn but once you learn them they'll transform your playing.
5. You Can Also Use These Chords In Your Blues Playing
Yes, I'm teaching you these chords inside a Fly Me To The Moon piano tutorial but you can also adapt these chords into your blues playing once you've mastered the technique.
Especially when you're playing a jazz blues tune like Straight No Chaser.
You'll hear master players like Oscar Peterson, Ray Charles, Gene Harris, and many others use these type of chords in their blues playing.
What's Coming Next For Your Jazz Piano Education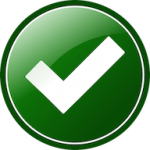 I hope you enjoyed learning these iconic chords. There really is a million different things you can do with this amazing art form.
(Yes, even more goodies for you to build some awesome jazz piano skills.)
If you have any questions on today's lesson or the new DVD please leave a comment below. I read every comment and I'm happy to help!
I'm committed to help you learn how to play jazz piano.
See you next lesson and get some practice in!
Sincerely,
Steve Nixon
P.S. Yes, I do have the Fly Me To The Moon piano sheet music included inside the new beginner jazz piano program.