Playing Piano Chords With Both Hands: Free Tutorial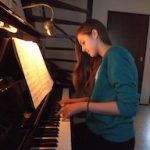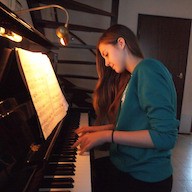 Time to have fun playing piano chords with both hands! (Free video lesson below)
In today's new video you'll learn 3 easy ways of playing 2 handed piano chords.
Every pianist needs to know these. Lets get started learning!
Why A Free Playing Piano Chords With Both Hands Tutorial?
I've filmed this free video below to celebrate the release of my brand new super course, "The Zero To Jazz Piano Hero" 2 DVD set.
 It's specifically designed for those new to jazz piano and want a clear and easy method to go from zero to jazz piano success in 30-60 days.
We'll talk more about the program soon but in the meantime I've got some must have jazz piano goodies to share…
Update: The Zero To Jazz Piano Hero Program has been released. ==> Check it out here.
The Gateway To Jazz Beginner Success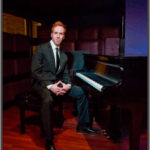 I've been fortunate to work with over 60,000 students inside my courses.
I've also been so humbled by the opportunity play over 1800 gigs all over the world over the last 15 years.
Add on the fact that my playing videos have been viewed and shared by over 3 million people.
I feel like the luckiest guy in the world!
This has blessed me with a unique understanding of jazz piano and how to play piano that connects with people.
So, I've seen first hand what it takes to go from the bottom to playing jazz on a level that sounds great and you can be proud to share.
Magic Jazz Piano?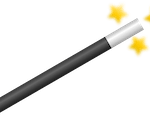 Just like everybody else I started as a jazz piano beginner. I didn't take any magic pills when I first started playing.
I did follow a simple system to help me achieve jazz success though. And that's what this program is all about. Giving you access to the same system I followed.
You see, jazz piano doesn't need to be hard. It should be fun, exciting and motivating.
What Inside the Zero To Jazz Piano Hero 2 DVD Set?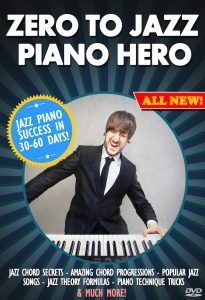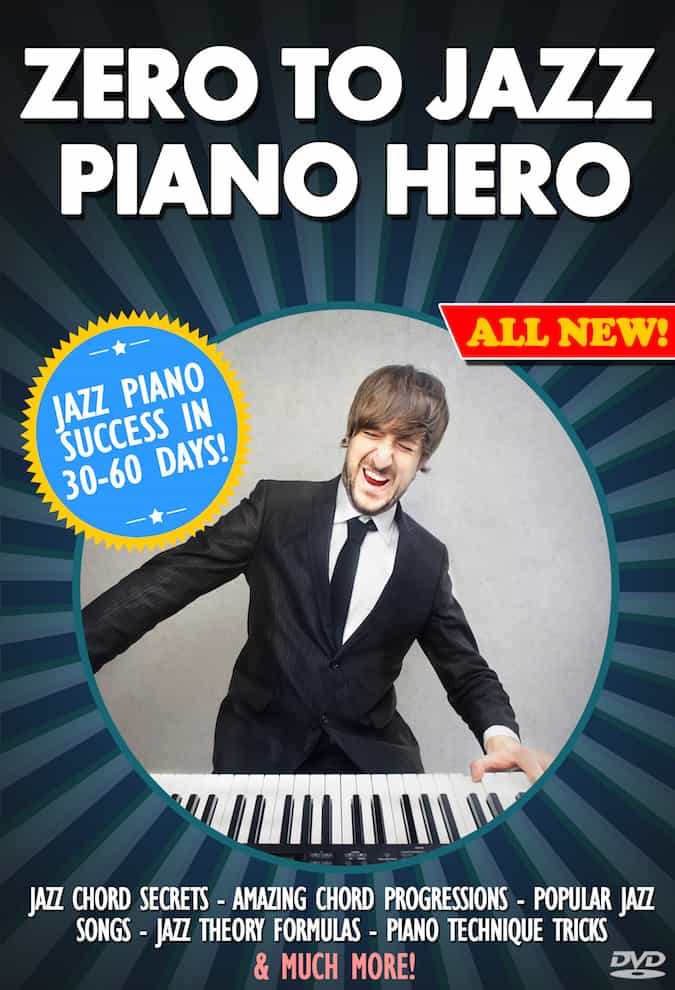 We've received over 140 emails just in the last week inquiring about the new course.
I think that's pretty exciting considering we've just recently released the program. Thank you for the love so far!
So many people have asked what they'll get access to inside the special DVD set…
What You'll Discover Inside The Program
4 Hours Of Action Packed Beginner Jazz Piano Secrets.
A Step By Step Method To Go From Zero To Playing Songs You Love in 30-60 Days.
Learn Iconic Jazz Songs That All Players MUST Know.
Hundreds Of The Best Jazz Chords.
Discover Amazing Chord Progression Formulas That Will Help You Learn Any Jazz Song Your Heart Desires.
Piano Technique Secrets To Get Your Fingers Flying Across The Keyboard With Ease.
Simple Jazz Practice Formulas That Keep You Motivated, Focused, & Having Fun.
Downloadable Sheet Music For Every Chord, Chord Progression, & Song Inside The Program.
Helpful text on screen (Great for those who like to learn by ear.)

Pro Jazz Jam Tracks &

MIDI Files (Have fun with a band 24 hours a day & improve your rhythm!)

A Powerful New Collection Of Jazz and Piano Bonuses To Explore

And So Much More…
–> Explore what you'll be able to play inside this program right here
More Tips For Playing Piano Chords With Both Hands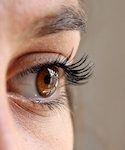 Here's the cool part. Over the course of the next few weeks I'm going to be releasing free samples right from the new course.
In the meantime, invest some time into the playing piano chords with both hands video above and the tips below.
1. Notice how I always start with a 1 handed chord and start removing notes from the left hand.
2. Also, pay close attention how I tend to use 4 and 5 note voicings when I play 2 handed chords.
3. These chord voicings can be used in lots of different styles of music. I've used them on funk gigs, R&B gigs, gospel gigs, and even rock gigs. You can too.
4. One of the things that makes the last chord 'sparkle' is that I add 1 extension of the chord in the middle of the voicing.
Can you hear how adding this 'color note' it makes this 1 chord sound so soulful?
5. Yes, we've talked about 3 easy way for playing piano chords in both hands in the video. Everything was built from starting with a 1 handed chord though. This is critical. You must know your 1 handed chords. 
Now, if you haven't mastered all your chords in 1 hand yet don't worry!  
I'll show you how to master them in every key inside the new program. Stay tuned…
How To Play Killer Jazz Chord Progressions
Do you like the type of 7th chords I teach in the video above?
Then, you'll love the sample tutorial we release next week.
Next week, I'm going to show you an easy trick you can use to simplify the most powerful jazz chord progression.
This will be an excellent primer for you if you're stuck only seeing 1 chord or 1 note at a time at the piano.
If you want to get more power in your playing and learn faster then you'll love the next sample video. It's a small taste of the powerful material you'll learn in the new DVDs.
Improve Your Jazz Skills This Month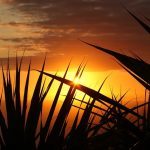 We've got a ton more chords and jazz theory shortcuts we feature in the new beginner jazz method.
In the mean time check out the chords from the video above. They're cool and will definitely get you started.
Enjoy your practice and I'll see you next time!
——
Do you have questions about this playing piano chords with both hands mini lesson or the new program? Please feel free to leave a comment below. I read every comment and I'm happy to help you.