Would you like to improve your jazz comping skills? Want to learn some sweet jazz piano chords that you can use to comp over hundreds of jazz tunes? Well, you've come to the right place.
In today's free video lesson I'm going to show you how to play 3 tasty jazz comping voicing.
Plus, I'll show you a cool formula you can use to build your own comp chords.
Learn An Entire Comping System & Much More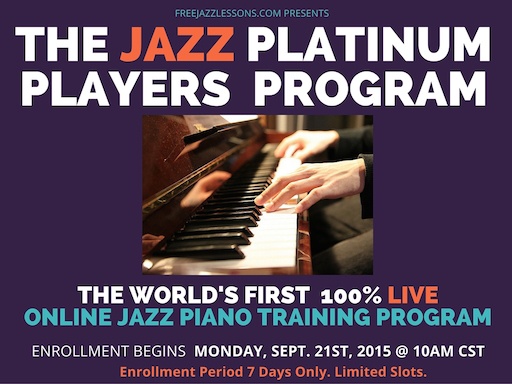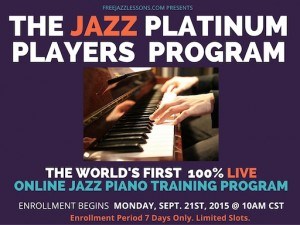 Every week I get emails from people asking me to create more jazz comping tutorials. I always want to deliver!
So, today I wanted to share a video with you. This is a small sample of the comping system we'll be unlocking inside my new course,"The Jazz Platinum Players Program."
(This course launches on Sept. 21st, 2015.)
We're still a few weeks away from the release of the program but this sample video will give you some things to learn and practice in the meantime.
By the way, my special comping system is just 1 of a HUGE collection of trainings you'll get access to inside "The Jazz Platinum Players Program."
(Check out the bottom of this article for a huge arsenal of topics you'll learn inside Platinum.)
Learn 3 Jazz Comping Chords Video
To get started learning these jazz comping chords watch this free video below.
How The Jazz Platinum Players Program Will Revolutionize Your Playing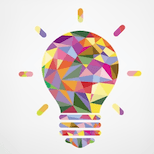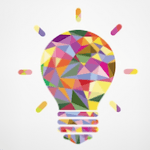 I've heard from so many of you who truly have a dream of developing your jazz skills to a world class level. And you're willing to do what it takes to get there.
I have a special love and respect for students who truly are willing to invest their time, energy, and resources into becoming the greatest jazz musicians they can be.
How To Get A Jazz Mentor & Personalized Training In The Comfort Of Your Own Home

Like everything in life it's much easier to achieve your goals faster when you can work closely with a mentor. Someone who's walked the path before.
Someone who can work closely with you. And someone who can help you experience a clear path to truly accelerate your jazz piano skills to a world class level.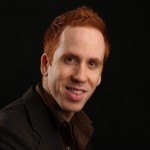 So, inside "The Jazz Platinum Players Program" I will be working very closely with a small group of dedicated students.
I'll be helping them achieve their most important jazz piano goals in the upcoming months and years.
This will be a very high level online training program & my most extensive program to this date.
We'll be building a  small 'insider' community & transforming the way you approach this art form to help you get to the next level.
There will be a ton of live training, webinars, masterclasses and more. Plus, everything will be delivered 100% online so you can experience the whole program in the comfort of your own home.
You'll get access to me live over HD camera using an amazing new system. You won't need any special software either. Just a few clicks inside your browser and you'll get access to every training session.
You'll be able to ask me questions live, get personalized attention in every lesson, & you'll experience an amazing group of fellow students will keep you motivated and inspired.

What Are The Topics Inside The Jazz Platinum Players Program?

I have a whole system we'll be covering inside the program. Plus, every lesson will be taught live so I'll be personalizing each session for the needs of every student.
An incredibly deep learning experience. Here are some of the topics we'll be covering…..
 Ultimate Jazz Scales Secrets Masterclass.
Weekly Live Training Where You Ask Me Questions LIVE.
Jazz Improv Secrets Webinars.
Personal Feedback From Me Via Video. (Yes! I'll be personally reviewing performances & giving you the direct solution you need to help you bring your playing to the next level.)
"The Jazz Theory Fast Track Method."
Jazz Comping Secrets Of The Masters" Training Module.
The Famous Chord Voicings Training Module" (Featuring chords made famous by Oscar Peterson, Bill Evans, Chick Corea, Bud Powell, Wynton Kelly, Thelonious Monk, and more.)
My Method For Learning Music 500% Faster (Maximize Your Time!)
"Solo Piano Arranging Secrets."
"How To Transform A Basic Fake Book Chart Into A Sizzling Pro Jazz Arrangement."
"How To Jazzify Any Popular Song" Training Webinar.
A Great Library Of Jam Tracks Featuring Pro Bass & Drums.
Practice Accountability Clubs.
I can't wait to work with you and really help you get your piano playing sounding great.
We're just a few weeks away from the release. But, I'll have some other cool free training to share with you in the coming weeks as we get closer to launch!
A Sweet Free Chord Progression Video Coming Soon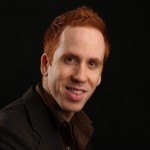 As I mentioned in my article on how to become a better musician, every time I launch a new program I want to make sure that I'm providing as much value to the community as possible.
So, I like to create several free lessons and sample videos to help students learn jazz piano and pick up new tips to help their playing.
So, next week I'll be posting a video showing you one of my favorite chord substitutions. Free.

When I first learned how to play this move it added a lot of sophistication to my playing. It's a really tasty move. Plus, I'll even show you how to use it inside the tune "Blue Bossa".

Keep watching the site for the new lesson. If you're on the FJL email list I'll actually send you the lesson right to your inbox to make it easy for you!
In the meantime check out today's jazz comping lesson video. Try out those chords, throw them in some tunes, and enjoy learning.
Sincerely,

Steve "Jazz Comping Chords In A Minor Key" Nixon