Tasty Blues Piano Licks #1
Want to learn how blues piano licks can be used over blues, rock, gospel, and jazz chord changes? Well, you've come to the right place.
In today's video I'm going to teach you a tasty lick that will be a great source material for soloing, creating melodies, and fills.
Why A Free Blues Piano Lick Video?
I've filmed this free video below to celebrate the  launch of our brand super course, "The Breakthrough Blues Piano Method".
Blues Hall Of Fame Pianist, Bruce Katz & I have partnered to create this revolutionary new blues piano training program.
Update: The Breakthrough Blues Piano Method has been released. You can grab a copy by click right here
We've got some awesome blues and jazz resources to share in the meantime…
How To Play BIG Blues Piano Licks
Do you like these BIG sounding multi note blues piano licks like I teach in the video above?
Then, you'll love the sample tutorial we release next week.
Next week, Bruce is going to show you an easy trick you can use to make single note riffs sound much BIGGER.
If you're stuck playing single notes and you want to get more power and soul out of your licks then you'll love the next sample video.
It's a small taste of the amazing material you'll learn in the DVD.
What's In The Breakthrough Blues Piano Method DVD?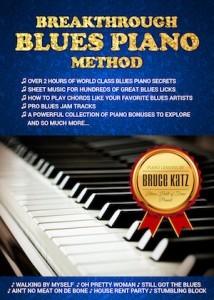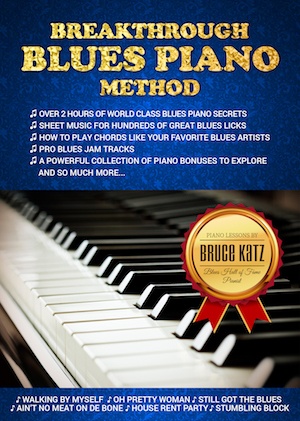 We've received over a hundred emails just in the last week about the DVD.
I think that's pretty exciting considering we're still 3 weeks away from the release.
Many people have asked what they'll get access to inside special DVD…
What You'll Discover Inside The Program
Over 2 Hours+ Of World Class Blues Piano Secrets Filmed In HD.

Sheet Music For Hundreds Of Great Blues Piano Licks.

How To Play Chords Like Your Favorite Blues Artists.

How To Play Blues Chord Substitutions & Chords Progressions Like Ray Charles, Oscar Peterson, Gene Harris, & Other Greats Jazzy Blues Artists.
Helpful Text On Screen For Those Who Like To Learn More By Ear.
Learn How To Play Power Blues Block Chords.
An Amazing Formula For Building Fantastic Blues & Jazz Comping Chords.
How To Mix Soul Jazz Techniques Into Your Blues Playing.

Pro Blues Jam Tracks & 

MIDI Files So Practicing Will Be More Fun & Easy.

How To Play Songs Like Stormy Monday (using the exact chords Bruce played when he toured with the Allman Brothers.) and others.

A Powerful Collection Of Blues, Jazz, & Gospel Piano Bonuses To Explore

And So Much More…
Why This DVD Will Be Special For You
It's simple: A great piano teacher is your key to becoming a great piano player. You deserve to learn from the best.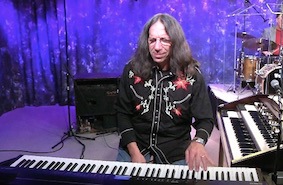 That's why I've partnered with Blues Hall Of Fame Pianist, Bruce Katz, to create this amazing DVD.
Bruce has played with a who's who of blues. (The Allman Brothers Band, Chuck Berry, Bo Diddley, Delbert McClinton, David "Fathead" Newman, and many others.)
And he takes his experience from the stage and shares so much with his piano students.
(He even taught blues and soul jazz piano at the Berklee College Of Music for 15 years too!)
A great player and a skilled teacher. A rare combo of talents.
We're all in for a treat!
More Tips To Help You Use Blues Piano Licks
We'll be sharing more resources from Bruce more in the coming weeks.
In the meantime invest some time into the video above.
1. Notice how I use it over a traditional 12 bar blues chord progression and also a jazz chord progression.
2. Also, pay close attention to how I combine major pentatonic, blues scale, and multi notes to create a tasty piece of blues language.
Even though I'm teaching this piece of blues vocab, you're going to get a ton of mileage out of it by using it in many other styles.
3. One of the things that really makes this lick "pop" is accenting the upbeat at the end of the lick.
Can you hear how it brings a sense of excitement and motion?
Improve Your Blues & Jazz Playing
We've got a ton more of these cool rhythm and accent concepts we'll be featuring in the new DVD.
If you want to improve your rhythm you'll love what Bruce shows you inside the program.
In the mean time grab the one from the video above. It's a cool one and will definitely get you started.
Enjoy your practice and we'll see you next time!
Update: The Breakthrough Blues Piano Method is now available. You can grab a copy by click right here
——
If you have questions about this lesson or the new DVD feel free to leave a comment below. I read every comment and I'm happy to help you.