Hey you! We're celebrating the release of our brand new course "The Jazz Improvisation Super System" 3 DVD set.
Today we're releasing the official trailer! Plus, we're recapping the free jazz improvisation resources we've released in the last 2 weeks. Let's get started!
First, Check Out The Awesome DVD Trailer Here Now!
Now, here comes the even better part….
We've Done Something Amazing For This Course Launch!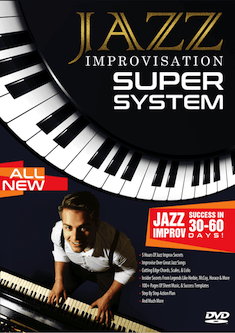 David and I have played thousands of live gigs.
So, just like our live gigs, we like to bring a celebration feel to our product launches.
That's why I'm thrilled to announce we're doing something special for the for this 3 DVD set release.
We're including 5 extremely special fast action piano bonuses. From studies of 5 modern jazz masters, afro cuban piano, and comping chords I think you'll love the bonuses.
Update: The Jazz Improvisation Super System has been released.
Click here to grab a copy of this powerful jazz improvisation course.
Now, let's take this a step further….
Big Recap Of The Free Jazz Piano Improvisation Resources We've Released So Far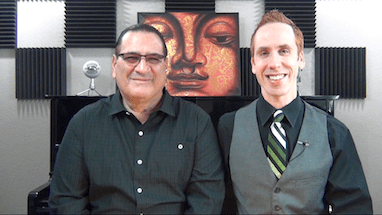 Whenever I release a new product I like to send out free resources and sample videos. It's just my way of thanking the community for their amazing support.
In the last 3 weeks we've released some cool jazz piano improvisation goodies. So, here's a compilation of them together for you to enjoy.
1. Powerful Piano Run Lick
Legendary jazz pianist David Garfield teaches you a flashy and versatile piano run. This one is sweet.
2. Melodic Minor Scale Secrets
It's important that you arm yourself with a knowledge of how jazz scales work. In this video I teach you one the most useful jazz scales. Check out the melodic minor video and learn how powerful the melodic minor scale can be here. 
3. Mixolydian Scale – Sweet Improv Tricks
This video is a fun one. I show you how to turn a simple jazz scale into a vehicle for tons of improvisation ideas. Explore this mixolydian scale video right here 
4. Chromatic Notes & Pentatonic Mastery
Here's a free sample right from the "Jazz Improvisation Super System" 3 DVD Set. In this excerpt, David shows you how to take boring sounding melodies and licks and make them more exciting with chromatics.
Learn how to make exciting sounding melodies with chromatic notes right here.
6. Pentatonic Notes Mastery
Here's another free sample right from "The Jazz Improvisation Super System". David introduces you to the different pentatonic you can use on minor chords. Check out the bottom of this article here to read more about it. 
7. Playing Outside Jazz Secrets
Here's another free sample right from "The Jazz Improvisation Super System". David shows you a technique we call "side stepping" that allows you to supercharge bland and simple licks. Check out the playing outside jazz sample here. 
Now, we didn't stop there…
What Is The Jazz Improvisation Super System?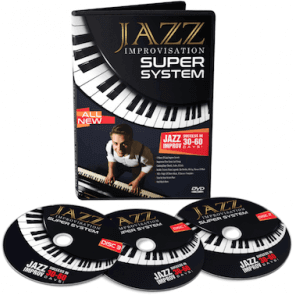 If you liked these free samples then you'll love the new DVDs.
Legendary jazz pianist David Garfield and I partnered to create this revolutionary jazz improvisation training program.
We jam packed this course with years of playing secrets.
What You'll Discover Inside The Program
Over 5 hours of Jam Packed Video Training On Jazz Improvisation.
116 Pages of Downloadable Sheet Music, Transcriptions, Written Examples, Licks, Chords, Templates, & Jam Tracks.
A Complete Method That Shows You How To Improvise Over The World's Greatest Jazz Songs With Ease.
The Exact Jazz Piano Voicings That Sound Best In Today's Jazz Improvisation.
97 Examples Of How To Turn Boring Old Fashioned Scale Exercises Into Unlimited New Patterns & Melodies.
Helpful Text On Screen For Those Who Like To Learn More By Ear.
Rarely Revealed Harmony Secrets From Greats Like Herbie Hancock, Chick Corea, McCoy Tyner, Horace Silver, Cedar Walton, & More.
Note For Note Transcriptions & Video Of Live Jazz Solos That You Can Use To Quickly Add Hundreds Of New Playing Techniques Under Your Fingers.
Simple Scale Hacks That Let Even Total Newbies Play Solos That Sound Fluid, Creative, & Musical.
A Powerful Collection Of Jazz, Latin, & Afro-Cuban Piano Bonuses To Explore.
And So Much More…
Yes, there will also be an online streaming option for those who don't have DVD players!
What's Coming Next For You?
Have I told you lately I love you? Well I do! So, Friday we're releasing another resource to celebrate the launch.
The maestro himself, Mr. David Garfield, is going to send out the transcription for one of his favorite piano runs. If you're on our email list you'll get this right in your inbox.
In the meantime, enjoy today's trailer and enjoy the sample jazz piano improvisation lessons we've released. You're awesome and see you again on Friday!
If you have questions about learning jazz piano improvisation or the new course please leave a comment below or drop us a line using the contact form.
I'm happy to help and I read every comment!