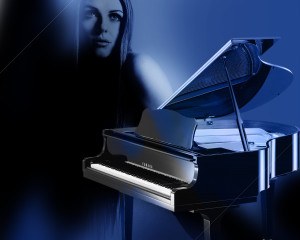 Have you always wondered how you can use the blues scale over a jazz standard?
Do you know how to mix bebop and blues together over jazz tunes?
Well in today's jazz tutorial we're going to explore both of these concepts. Today's lesson should help you add a lot of soulfulness to your jazz improvisation.
This is a follow up lesson to our introduction to blues scale for piano.
Blues Scale and Bebop Over Jazz Video
To get you started why not take a few minutes and watch this video on using the blues scale and mixing bebop over jazz standards.
Watching this video will help you hear how these concepts sound. Remember, the best way to learn jazz is to listen! I use the tune Autumn Leaves as the example tune on here.
Let's explore some of the playing concepts from the video now.
Using The Blues Scale Over Jazz Songs
Here the basic concept to keep in mind. If you apply these concepts you should be able to do get started using it right away!
1. As long as the chords of the tune stay fairly diatonic to a key you can use blues scale over the whole tune.
2. This isn't the most advanced concept you can use when improvising over a jazz song. It is simple and effective though.
3. I like to think of using the blues scale as just a simple 'spice or sauce' that can always be used. It's not the most complex 'taste' in the world but it works.
4. On a real gig I may do a whole chorus of a tune in a bluesier style but I probably wouldn't do it for several choruses in a row.
5. It's for that reason that later in the video I show you how mixing blues and bebop together creates a nice counter balance of more complex sounds and simpler sounds.
6. Always remember that using different 'spices' or sounds in your playing helps keep the listener engaged and entertained.
7. You can also use the blues scale and blues concepts over II-V-I's. We learn how to do this within the Oscar Peterson and Diana Krall licks inside my DVD The Jazz Masters Method.
What Jazz Standards Can I Apply This Concept To?
There are literally hundreds of tunes that you can use this improvisation concept on. Here is a list of 10 that will get you started though.
1. Summertime
2. Autumn Leaves (If you need voicings for this tune check out these Autumn Leaves piano chords)
3. Blue Bossa
4. Black Orpheus
5. Beautiful Love
6. Lullaby of Birdland
7. What Is This Thing Called Love (Check out Red Garland's solo this tune)
8. Alone Together
9. Softly As In A Morning Sunrise
10. Round Midnight
Never Forget Rhythm
Before I give you some other resources to explore I want to make one last point. Last is not least in this situation though!

When you're playing over the tunes above please remember groove and swing feel is super important! 
One of the main reason why the improvisation concepts I discuss above work so well in the video above is because I'm executing with a good rhythmic feel.
Really focus on keeping good time and making sure you're rhythmic execution is precise.
If you're not practicing with a metronome or some sort of excellent time keeping device (like a good jam track) start now!
You can also start transcribing and exploring the playing/rhythmic concepts of master jazz musicians. This is my #1 tip for getting a great rhythmic feel.
If you're new to transcribing you can check out my article and review of Transcribe.
Transcribe is a software tool that helps you slow down and learn from your favorite recordings.
More Bebop Improvisation To Study
Ok let's discuss some other jazz improvisation resources you can explore now.
If you connected more with the bebop sound in the video above, as opposed to the blues, there are a lot of lesson for you to study on this site.
You can start by exploring:
- This Charlie Parker jazz lick,
- This lesson on improvising over major 7ths,
- This ongoing series on playing jazz licks starting on every note
- You can also check out this lesson on jazz blues piano chords
Have a ton of fun practicing this stuff! Be cool until next time my friends!

————-
Did you like this lesson or have a question? Please feel free to leave a comment below or help your friends learn by sharing on Facebook or Twitter!
If this is your first time here I also recommend you subscribe to the freejazzlessons.com email list.
You'll be joining a community of over 3000 + musicians who receive free jazz lessons in their inbox every week.
You can subscribe on the top left of the site or right below this article. It's that easy!