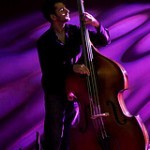 If you need a list of jazz tunes to learn you've come to the right place!
In today's lesson we're going to talk about 9 essential jazz tunes every jazz musician should learn.
(This is the second post in the series on recommended jazz tunes you should learn.  If you missed the first post you can check it out here Jazz Standards To Learn Part 1.)
Lets discuss some more tunes that are essential for you to add into your repertoire.
I'll recommend some good recordings to learn from as well.
As a reminder: It's often times best to learn a tune from a great singer or pianist for the purpose of having excellent phrasing and swinging hard.
All Of Me
This is one of the most famous jazz standards of all time.  It has been played for 80 years and  it's an eventual must for your jazz repertoire.
When I first learned the tune I learned it from a fakebook.  This was a big mistake.  Then I went back and relearned it with Frank Sinatra's phrasing (from the recording below).  When I play it now it swings so much harder. Frank really does some great stuff with swing rhythms.  Copy his version even if you're an instrumentalist!
All The Things You Are
I've always loved this tune.
Here's a sample version of me playing and teaching the tune. There's some cool chord reharmonizations in there that I hope you enjoy. 🙂
I teach the whole tune (with full sheet music included) inside the Premium Membership Course.
I Got Rhythm
George Gershwin's classic, often times called just "Rhythm Changes" has provided a vehicle for jazz musicians for over half a decade.  This is an absolute must as far as tune learning.  It's called at jam sessions around the world on a nightly basis.
Here's a particularly swinging version of Hank Jones playing it.  Such a great groove on the head!  IMO there is better solos to transcribe then the ones he plays on this but the head is fantastic.
There Is No Greater Love
This tune has bits and pieces of most of the common chord progressions in jazz.  It will definitely help you playing over hundreds of standards.
Here's one example of many: I specifically learned how to play over a minor ii-v-i by transcribing a few solos of Bud Powell and Red Garland on this one.
Here's a sample tutorial of me teaching the tune. 
If you want to learn a ton of killer techniques on this tune I have a complete tutorial inside the Premium Membership Course.
Stella By Starlight
This is another standard that is called in almost every jam session.  If you're trying to learn how to solo over short form II-V's, long form II-V's, and II-V's in major and minor this is the tune for you.
In addition, because of some of the "unusual" harmonic motion in the first 4 bars of the tune it makes people play some really beautiful and interesting lines (translation: less cliche licks).
I really dig Tony Bennett's version of Stella.  It starts regularly swinging at about 40 seconds in.
If you want to learn how to play this tune there's over 2 hours of in depth tutorials plus complete notation on Stella inside the Premium Membership Course
Don't Get Around Much Anymore
This is one of the most fun jazz tunes to play out there.  It's a great way to learn how to solo on a long form I-VI -II -V-I chord progression.  In addition, the bridge starts with a IV chord which is super common in many jazz standards.
Learning how to navigate into and out of this bridge would prepare you for playing over tons of other tunes like Take The A Train, Misty, Satin Doll, and many others.
Here's a really lively and fun version of Duke Ellington and Louis Armstrong together.  This is off the first jazz CD I ever bought.
If you love this tune I teach you how to play a super cool solo piano version inside the Premium Membership Course.
Misty
For many years Misty was the most requested jazz standard of all time. It's still amazingly popular. There are some really nice II-V-I's in there and a the bridge has a beautiful melody. Bottom line it needs to be in your repertoire.
If you don't know Misty don't expect a call back on your next gig 🙂  Here's a  link to a lesson I made on playing the song Misty Jazz Piano Lesson.
So What
This one is the first track of the greatest selling jazz album of all time Kind of Blue.  It's a great tune to learn how to play modally over one minor chord.  As a young jazz musician I transcribed Miles solo on this one. It skyrocketed my understanding of how to swing!
Here's Miles playing the original version:
Did you love Miles solo? There is also a free lesson on the solo right her Miles Davis So What.
Straight No Chaser
Being able to play over a blues is an absolute requirement for being your jazz repertoire and development.
Many people feel that blues is the true essence and source material of jazz.  This was probably true in earlier days and even possibly true today as well.
Blues and blues licks are such a big part of  contemporary 20th and 21st century music.  You can hear bit's and pieces of it in jazz, blues, rock, funk, gospel, country, pop, and many other places.  It's a great launching pad for navigating into other styles of music.
In regards to jazz blues, you could really learn the head to any blues tune. I chose Straight No Chaser because it's probably the most  famous jazz blues tune (plus it's written by Monk!)
Here's a version of me performing and teaching Straight No Chaser.
Enjoy learning these tunes and get started right away!
****If you enjoyed this article please sign up for the free jazz lessons email list or leave a comment below. ****
photo credit: by Daniel Ferrer