5 Tommy Flanagan Piano Licks You Must Know

Would you like to learn some Tommy Flanagan piano licks and take your chops to another level?
You've come to the right place.
These awesome bebop licks will make you sound great over many jazz tunes.
Let's get started.
Listen To Tommy Flanagan Playing "Raincheck"
Before proceeding to learn 5 of Tommy Flanagan's licks, check out this performance.
In the video below, listen to his trio playing Billy Strayhorn's "Raincheck":
How To Play A Tommy Flanagan Piano Intro
The first 2 licks you'll learn come from the intro he plays for "Raincheck".
1. Here's A Lick Over The I Chord
Watch and listen to how Tommy plays a bluesy lick over the F chord:
Here's a transcription of that lick:

This lick is based on the F major blues scale that looks like this: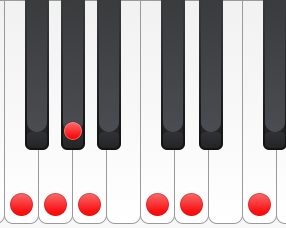 Let's move to the next part of the intro:
2. Here's A Lick Over The V Chord
The next lick features a combination of an augmented 5th (or b13) line and a flashy descending chromatic run:
Here's a transcription of the lick:

Use this lick over a dominant chord and end on a chord tone of the next chord.
The next thing you'll learn is how to play a fill Tommy Flanagan style.
How To Add Tommy Flanagan Piano Fills In A Phrase
Our third Tommy Flanagan piano lick is a fill he adds at the 4th bar of the tune.
This is meant to fill up that ii-V cadence to add interest to the tune:

In this lick, we see Tommy perform a short run from F leading to the B natural of the G7 chord then ending at the b7 (Bb) of the C7.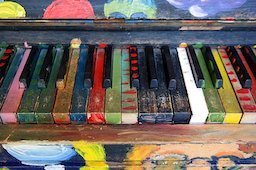 This works as a response to the melody of the tune in the beginning.
This is also a nice short lick moving from a secondary dominant (G7) to the primary dominant (C7).
Before going further into learning more Tommy Flanagan piano licks, let's talk about how to actually use them.
8 Steps To Incorporating Licks Into Your Jazz Improv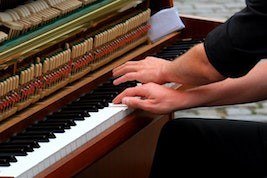 Here are some important tips to really incorporate licks into your vocabulary:
Listen to the lick in context. In this lesson, you can do this by viewing the videos at the exact time when the lick was played.
Listen repetitively to really learn the lick in your mind's "ear".
Learn the notes of the lick by reading the transcription. If you can't read music, slow down the playback of the lick enough that you can pick out the notes by ear.
Memorize the notes of the lick.
Practice the lick repeatedly against the video in slow tempo. Set YouTube playback to 0.5 speed or slower. Make sure you are playing each note perfectly and imitate the artist's feel.
Ramp up the speed once you are comfortable playing in a slow tempo.
Practice using the lick (in part or whole) over appropriate chords when you take a solo.
Create and practice variations of the lick to truly incorporate it into your own vocabulary.

If you want to learn more jazz improvisation tricks that the pros use, check out the Jazz Improvisation Super System.
Inside the Jazz Improvisation Super System, you'll discover a complete method that shows you step by step how to improvise over the world's greatest jazz songs with ease.
Get instant access to the Jazz Improvisation Super System here.
Now let's look at some of Tommy's licks for his solos.
How To Start A Solo With A Hip Line
This next lick that you're going to learn is a piece of vocabulary that Tommy uses to launch his solo:
This lick goes over a V chord leading to the I chord. Here's the transcription of the lick:

Following that beginning lick is another one that can work over a V to I or anywhere in a blues chords:
Here's the transcription of this lick:

So, those are five licks that can get you started with studying the Tommy Flanagan piano technique.
Now that you have gone this far into learning these licks, how do you go further?
Why Memorizing Licks Is Not Enough (And What To Do About It)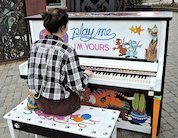 Still not satisfied with your playing?
Are you practicing and working on your skills but you still feel like something is missing?
Do you know that deep down inside there's beautiful music just waiting to come out? But, you're frustrated because it's not happening fast enough?
Don't worry you're not alone. A lot of students hit a plateau in their playing when they're either trying to teach themselves or working with mediocre teachers.
There's only so much you can do by yourself.
It's always been my philosophy that to be the best you should model and learn from the best.
And that's exactly why Steve created the Jazz Inner Circle program.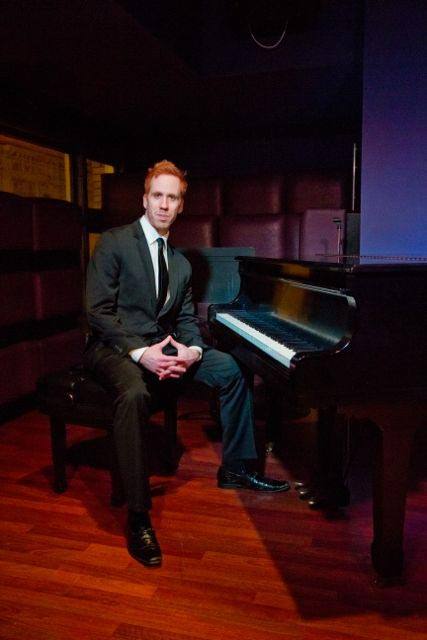 Do you want to learn 1-on-1 with Grammy nominees, Platinum-selling artists, and world-touring pros?
Then you'll want to see if you qualify for the Jazz Inner Circle here.
If you're thirsty for greatness and willing to invest in yourself and take immediate action, start by applying for the Jazz Inner Circle here.
Now is the time you stop talking and start moving.
Go to the piano now and take yourself to the next level.
If you have comments, questions, and/or suggestions, feel free to leave a comment below.
I'll see you in the next lesson. Have a good one.