Hiromi Piano Licks: Spicy Jazz Vocabulary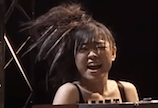 Would you like to learn some Hiromi piano licks to spice up your improv? You've come to the right place.
In this lesson, you're going to learn four licks that I transcribed from a live version of "Time Out".
These jazz licks sound really great and can make your piano solos memorable.
Let's get started.
Hiromi's Sonicbloom Performing "Time Out"
Before starting to learn the licks, listen to this performance of "Time Out" by Hiromi's Sonicbloom.
Listen well to her piano improv spot:
While watching and listening, focus on Hiromi's piano improvisation.
There are tons of vocabulary you can discover in that improv.
Now, on to learning the licks themselves.
1. How This Hiromi Piano Lick Adds A Funky, Bluesy Flavor To Your Minor 2-5-1
Focus on this lick first:

Now, listen to how Hiromi plays it in the context of "Time Out":
This is lick is built out of the C blues scale with a major 3rd and runs over a V7-i chord progression
The scale is a kind of a hybrid blues scale that looks like this: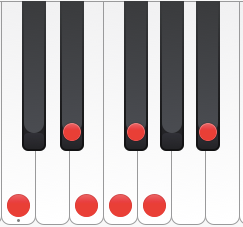 If you slow down the video above, you can hear how Hiromi swings the lick. Listen to the lick at 0.5 speed to hear this.
Start learning this Hiromi piano lick slowly.

Once you've learned the notes, practice playing the lick in unison with Hiromi's performance at 50%.
Repeat the process until you become confident with it then gradually speed it up.
By the way, if you love the sound of this hybrid blues scale and want to check out a killer resource for learning the sweetest scales in the world then check out the Ultimate Jazz Scales Book.
You can learn over 372 scales in the book to help you improve jazz piano technique, understand jazz scale theory, and gain soloing ideas. All of which will make you play freer, easier, and feel more confident at the keys.
Grab your copy of the Ultimate Jazz Scales book here.
Let's look at the second lick.
2. How To Add Sparkle & Flash To Your Improv With A Patterened Hiromi Piano Lick
Hiromi sometimes makes her solos sound catchy with a patterned repetitive lick. Here's one of those kinds of licks you can easily learn:
This lick sounds really exciting when played at a really fast tempo. Here's how Hiromi uses it:
This repetitive pattern is based on a few select notes from a C Dorian scale with an added major 7th.
You can say that the lick is built on rootless arpeggios of Cm7(11), Cmmaj7(11), and Cm(13,11):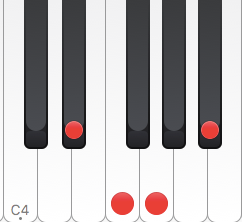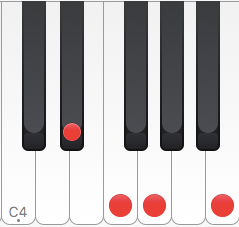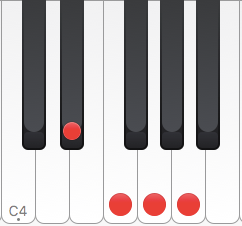 By playing this patterned lick, you create excitement through the tension produced by the 13th, flat 7th, and major 7th.
As with any other lick, practice it slowly. If you want to capture Hiromi's feel, practice by playing along the video.
Slow down the video to 0.5 speed when practicing along with it at first. After that, gradually ramp up the speed.
Let's look at the next lick.
3. How Targeted Chord Tones Create A Sense Of Journey
In this next lick, Hiromi targets chord tones, a typical jazz piano soloing technique. This creates a sense of melodic movement or progress:

She also uses some anticipation and suspension using D (the 3rd of Bb7) in between the 1st and 2nd bars of the lick.
Check out how Hiromi plays this lick right here: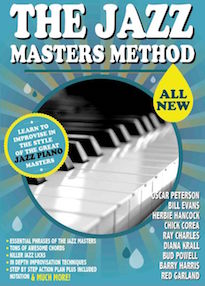 By the way, if you want to learn more licks from the legendary jazz pianists then you'll love the Jazz Masters Method.
Inside the course you'll discover lick formulas and improv secrets from Bud Powell, Bill Evans, Herbie Hancock, Chick Corea, Diana Krall, Oscar Peterson, Ray Charles, Barry Harris, and Red Garland
Get instant access to the Jazz Masters Method here.
4. How To Add Ornaments Like Hiromi
In this last Hiromi piano lick, you'll see how she uses ornaments in a solo. Check this out:

If you look closely, Hiromi adds 2-note chromatic ornaments to the notes C, F, and G.
This is your 1-4-5 in either C major or minor.
The ornaments create 2 effects:
Emphasizes the key of the tune.
Creates varying degrees of tension or resolution (depending on the chord the ornaments are being played over).
Now listen to how Hiromi applies this lick to a solo:
Again, you just need to slow down the video to 0.5 and practice along.
Do your best to mimic Hiromi's accuracy and feel when practicing.
Notes are always important. But, feel and groove are what separate amateur pianists from top pros.
How To Breathe Life Into Your Jazz Piano Playing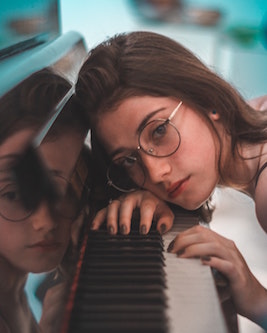 The most disappointing thing that can happen on stage is not the boos and jeers.
It's when your audience has zero reaction to your performance.
Have you ever felt that your playing sounds lifeless?
You may have had more than 10 years of musical and piano training.
It's possible you have some chops and know your way around the piano. However, you still feel like something is missing from your playing.
People don't dig it and most importantly you're frustrated with your results so far too.
So, how do you get your playing up to that next level? What do the most progressive musicians do to get their playing to the next level?
The great news is that you can use the same solution that the greatest musicians have been using for years: having a mentor.
If you'd love to learn 1 on 1 from Grammy Nominees, Platinum selling artists, and world touring pros
then I encourage you to apply for  the Jazz Inner Circle.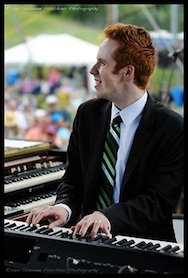 Your Jazz Inner Circle piano instructor will help you gain all the skills to become the best jazz pianist you can be.
Inside the Jazz Inner Circle, you'll discover:
"The Jazz Piano Mastery Program" (Over $12,000 worth of jazz piano training resources, tools, practice templates, improv strategies, & tons more.)
"The Ultimate Jazz Workout Training System." This is where we implement a complete practice program to build your jazz piano talent in record time.
Access to over 50 hours of high-level jazz intensive workshops.
If you're motivated, hungry to take action, and willing to invest in yourself we're here to take you to the next level in your playing. Get started by applying for the Jazz Inner Circle here.
Now is the time to go to the piano and take your chops to the next level.
Until the next lesson, have fun.