Blues Piano Players – 11 Modern Players To Study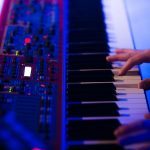 One of the best ways to improve your blues piano playing is to grab some licks from master blues piano players.
In fact, that's what I did on my off days when we were doing tours with B.B. King.
I'd sit in my hotel rooms at night and learn licks from legendary blues piano players.
Most people don't know the best blues piano players to study. So, today I want to give you a quick list so you can start the process.
Some of these guys are straight blues and some are blues mixed with rock or jazz.
But, trust me when I tell you this…they are all monster players and worth your time. I've made sure to mix several modern guys in here too so you can think about the art form in new ways.
1. Otis Spann – Blues Piano Players All Learn From Him
As far as Chicago blues style of playing he is the creme de la creme. If you want to learn hand independence and great phrasing then he's your guy. Check out some of his tremolos and licks below.
2. John Lord – Learn Blues, Prog Rock, & B3 Licks
Want to learn smokin' blues mixed with classic rock riffs? John is the guy for this. The sounds he would get out his B3 people are still trying to model 30 years later.
3. Ray Charles – Genius Level Chords, Licks, And More
Ray is perhaps my 2nd biggest blues influence. There's a reason they call him "The Genius". In fact, I do a complete breakdown of 1 of his classic licks in the Jazz Masters Method DVD. His blend of blues/gospel/New Orleans was and still is super innovative.
Listen to the audience react to him on this one.
4. Jimmy Smith – Master The Hammond B-3
One of the greatest Hammond B-3 players of all time. If you want to learn 'greasy' soul drenched blues mixed with virtuosic jazz runs he's your man.
5. Billy Preston – The 5th Beatle & Gospel Blues Master
Billy grew up as a gospel keyboard player. You can really hear it in his playing. There are thousand great Billy performances. One of my favorites is his solo on the Beatles tune "Get Back". The blues piano licks he rips in them over just some simple rock chords are fantastic.
6. Keith Emerson – Redefined The Role Of Keyboards In Rock
Ever heard of the rock band ELP (Emerson, Lake, & Palmer)? That's Keith Emerson. If you like more of a fusion style of classical, and rock mixed together grab some of his licks. Like many great classic rock keyboard players there are a variety of bluesy runs throughout his playing.
7. Bruce Katz – Blues Hall Of Fame Member & Amazing Teacher
I talked how Ray was my 2nd biggest influence. Bruce has been the biggest influence on my blues playing. He's one of those rare guys who can play jazz and blues on a virtuosic level and teach it too. A special talent.
That's why he's in the Blues Hall Of Fame. If you want to learn hundreds of licks you can check out this program right here —> Breakthrough Blues Method.
You can also apply to work 1 on 1 in our exclusive private mentorship program here —> https://www.freejazzlessons.com/inner-circle
8. Chuck Leavell – Georgia Blues Guy Becomes Sidesman To The Stars
Chuck is the sideman to the stars. Many of the great piano solos you hear in early Allman Brother recordings were done by Chuck. Definitely check out his solo on the tune "Jessica". His current gig is the keyboard player and musical director of the Rolling Stones.
This is music that makes me happy!
9. Ray Manzerik – Incredible Hand Independence & Licks
If you like the classic rock band The Doors then you love Ray's playing. His hand independence is through the roof. I transcribed his solo Riders On The Storm when I was a young musician and learned a lot from it. Also, check out Roadhouse Blues
10. Steve Winwood – The Hit Song Maker
Many people think of Steve as primarily a singer. Yes, he is a great singer and has written many hit song but he's also an amazing keyboard player. There are so many great Winwood solos. Start by checking out his riffs and fills he did playing with Eric Clapton in the band Traffic or is solo on "Finer Things"
Steve takes a great blues soulful solo on this at 4:35.
11. Dr John – New Orleans Blues Piano Master
If you love blues mixed with New Orleans music then you can't go wrong with the Doctor.
I've shared the stage with him before and let me tell you he is 100% the real deal.
Check out his playing on the album Dr John plays Mac Rebennack. His real name is actually Mac Rebennack which is a fun little fact. So, it's a recording of him playing solo piano of his original pieces.
Blues Piano Players Galore
Alright there we have it. 11 blues piano players and blues influenced players you should learn from. Happy practicing and thanks for being a member of our musical family.
Sincerely,
Steve "11 Blues Piano Players" Nixon
P.S. If you want to learn hundreds of must have blues piano licks and look over the shoulder of a blues piano legend then check out this program Breakthrough Blues Method.
And yes, all the licks are also written in sheet music form too if you like to learn by reading.