1 Simple Ray Charles Blues Lick Hack
It's time to learn a simple trick you can use to make any lick sound much more soulful and bluesy.
You'll love how easy this is to play. Ready to get started learning?
Special Ray Charles DVD Sample Tutorial
In this video Blues Hall Of Fame pianist, Bruce Katz shows you an easy way to upgrade simple licks by changing 1 note. Watch the vid to learn this easy but tasty blues technique!
The tutorial above is a sample from our upcoming new super piano course. It's called "The Play Like Ray" 2 DVD set. (The DVDs release on Monday, October 22nd, 2018)
Update: Play Like Ray has been released!
Click here to grab a copy of this powerful Ray Charles piano course.
What Is The Play Like Ray 2 DVD Set?
Last week we released our first sample of the course. And since that time my inbox has been flooded with questions. Thank you so much for your incredible response so far!!
Many people have asked what they'll get access to inside special DVDs.
Here's a sample list….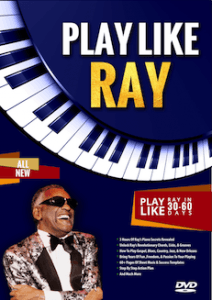 Over 3 Hours Of Ray's Revolutionary Piano Secrets Filmed In HD.

A BIG Collection Of Sheet Music For Ray's Best Chords, Grooves, & Licks.

Step By Step Breakdown of Ray's Most Soulful Licks & Inventive Chords.

'Notes On Screen' For Those Who Like To Learn More By Ear.
Learn How To Play Ray's Mesmerizing Piano Grooves In Blues, Jazz, Country, Gospel, New Orleans Styles, & More.
Improv Secrets That Ray Used To Take Great Solos Over Blues, Jazz, Gospel, & Country Tunes.
How To Play Ray's Exact Piano Parts From His Most Iconic Classics. (Unlock The Mind Of A Piano Genius).
Special Practice Tools, Templates, Checklists, & Action Guides That Will Have You Playing Just Like Ray. Bring Fun, Freedom, & Passion To Your Playing.
Pro Blues Jam Tracks & MIDI Files. So Practicing Will Be More Fun & Easy.

A Powerful Collection Of Boogie Woogie, Rhumba, & Gospel Piano Bonuses To Explore.

Instant Online Streaming Available For Those Without A DVD player.

And So Much More…
But we didn't stop there…
I'm Doing Something Big For This DVD Launch
Music is supposed to be about having fun right? So, I like to bring a fun and celebration feel to our product launches.
That's why I'm excited to announce we're doing something special for the release of this program. We're including 5 powerful piano bonuses designed to dramatically upgrade your piano playing today.

We don't release products very often but when we do they sell out very quickly.
Now, here comes the even better part….
You Deserve To Learn From The Best
This special DVD set is the world's 1st comprehensive Ray Charles course. Inside the program we break down his amazing approach jazz, blues, gospel, country, New Orleans and soul.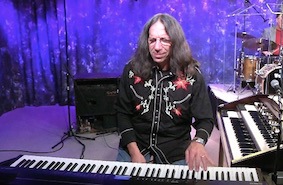 Plus, "Play Like Ray" is also taught by Blues Hall Of Fame pianist Bruce Katz.
So, not only are you getting inside the mind of a piano genius but you also have a piano legend guiding you every step of the way.
We created "The Play Like Ray" program after spending literally THOUSANDS of hours on stage, in the rehearsal studio, and in lessons with students.
Fortunately, you won't have to spend thousands of hours and years of your life.
Watch Bruce's Amazing Playing On The Mess Around!!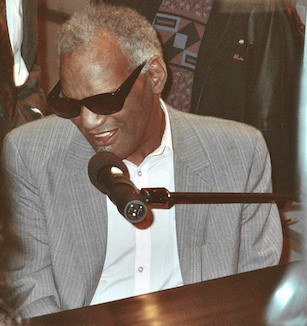 We've made the learning process easy for you. So, we put tons of Ray Charles' piano secrets in the DVDs.
Yes, we share hundreds of our Ray's closely guarded pro jazz, blues, country, gospel, and soul piano secrets. Speaking of cool things….
Watch Bruce Tear It Up In This Video
[video_player type="embed" style="1″ dimensions="640×360″ width="640″ height="360″ align="center" margin_top="0″ margin_bottom="20″ border_size="1″ border_color="#000000″ ipad_color="black"]
[/video_player]
(We'll teach you how to play the full version of "The Mess Around" inside the course.)
Additionally, Bruce Katz has toured with some of the biggest names in blues (Greg Allman, Delbert McClinton, Bo Diddley, Chuck Berry, and others.)
95% of piano players don't know these techniques. And those that do rarely share them. Bruce is a generous soul!
Cool New Resources Being Released Next Week
As many people know, I like to release free tutorials and resources whenever we release a new product.
It's just my way of saying thanks and sharing love with the community. So, next week we have another cool sample video we'll be releasing. It's one of the most fun videos we've created.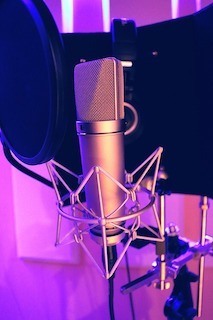 I did a voiceover on the new video and I got to pretend I was a radio announcer.
I first played the 'radio announcer' when we launched The Breakthrough Blues Method. I also put on my "radio master" hat on The Jazz Improvisation Super System.
Over the years, I've heard from so many people that they loved these performances.
So, I reprised my role with a brand new program.
Bruce takes some amazing solos in the video too over some of Ray Charles' best songs.
Needless to say, I'm super excited to share this new one with you! It may be my best yet.
In the meantime jump in and start learning messing around  with the pentatonic and bluesy notes we showed you in the video above.
Remember, you can use these scales and bluesy notes on any style of music. I've used them on jazz, blues, country, and even rock gigs too. Super versatile!
If you have questions on this lesson, Ray's bluesy licks, or about the DVDs please leave a comment below.
You can also or email us using the contact form at the top of the site. I'm always happy to help!