It's time to learn some beautiful blues piano chords, moves, and tricks.
You can use the moves in today's video to magically reinvent a basic 12 bar blues chord progression or any simple chord progression. They're powerful! Ready to get started learning?
Special Blues DVD Sample Tutorial
In this video Blues Hall Of Fame pianist, Bruce Katz shows you a technique we call "blues piano chord shifts." Watch the vid to learn this must have move!
The tutorial above is a sample from our new blues piano training program. It's called "The Breakthrough Blues Piano Method' DVD.
Update: The Breakthrough Blues Method has been released. You can grab a copy right here
What Is The Breakthrough Blues Piano Method?
Last week we released our first sample of the DVD. And since that time my inbox has been flooded with questions. Thank you so much for your incredible response so far!!
Many people have asked what they'll get access to inside special DVD.
Here's a sample list….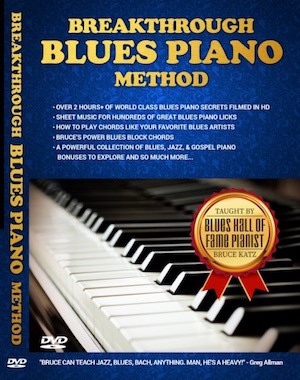 Over 2 Hours Of World Class Blues Piano Secrets Filmed In HD.
Sheet Music For Hundreds Of Great Blues Piano Licks.
How To Play Chords Just Like Your Favorite Blues Artists.
How To Play Blues Chord Substitutions & Progressions Like Ray Charles, Oscar Peterson, Gene Harris, & Other Greats Jazzy Blues Artists.
'Notes On Screen' For Those Who Like To Learn More By Ear.
Gospel & Blues Block Chord Trainings.
An Amazing Formula For Building Fantastic Blues & Jazz Comping Chords.
How To Mix Soul Jazz Techniques Into Your Blues Playing.
Pro Blues Jam Tracks & MIDI Files. So Practicing Will Be More Fun & Easy.
How To Play Songs Like Stormy Monday (using the exact chords Bruce played when he toured with the Allman Brothers.) And Others…
A Powerful Collection Of Blues, Jazz, & Gospel Piano Bonuses To Explore
And So Much More…
But we didn't stop there…
I'm Doing Something Big For This DVD Launch
Music is supposed to be about having fun right? So, I like to bring a fun and celebration feel to our product launches.
We don't release products very often but when we do they sell out very quickly.
We have 65,000 people who come to this site to learn per month.
So, I suggest you act quickly if you want to grab a copy of our 1st printing.
Now, here comes the even better part….
You Deserve To Learn From The Best
This special DVD is the world's first blues piano program taught by a Blues Hall Of Fame Pianist.
Bruce Katz, and I created the "Breakthrough Blues Piano" program after spending literally THOUSANDS of hours on stage, in the rehearsal studio, and in lessons with students.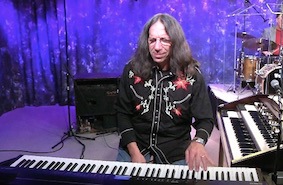 Fortunately, you won't have to spend thousands of hours and years of your life.
We've made the learning process easy for you. So, we put tons of our blues discoveries in the DVD.
Yes, we share hundreds of our most closely guarded pro blues and jazz piano secrets.
Bruce has toured with some of the biggest names in blues (Greg Allman, Delbert McClinton, Bo Diddley, Chuck Berry, and others.)
95% of piano players don't know these techniques. And those that do rarely share them. Bruce is a generous soul!
Speaking of cool things….
Cool New Resources Being Released Next Week
As many people know, I like to release free tutorials and resources whenever we release a new product.
It's just my way of saying thanks to the community. So, next week we have another cool sample video we'll be releasing. It's one of the most fun videos we've created.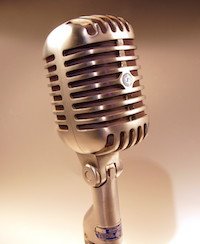 I did a voiceover on the new video and I got to pretend I was a radio announcer. 🙂
We've never done anything like it before so I'm excited to show it to you!
Plus, the maestro himself…Mr Bruce Katz just created a free new article that we'll be sending out as well. Stay tuned.
In the meantime jump in and start learning those blues piano chords and chromatic chord moves in the video above.
Remember, you can use the half stepping down "decoration move" that Bruce teaches you in the video on blues and jazz songs too. Super versatile!
You can even see Bruce use it on action at 4:20 on this video…
If you have questions on this lesson, about blues piano chords, or about the DVD please leave a comment below.
You can also or email us using the contact form at the top of the site. I'm always happy to help!