Ramsey Lewis: Lick Lesson From Love's Serenade
In today's lesson, we'll celebrate the life of Ramsey Lewis.
What would be more proper to honor his legacy than by learning some of his piano vocabulary?
Let's get started.
Listen To Ramsey Lewis Play Love's Serenade
Before we dive deeper, let's listen to Ramsey Lewis playing the entire tune in this studio recording:
Now, the lick you're going to learn today is from this portion of his improv in the tune. Listen to the lick starting from 02:10 to 02:23 below:
Listen to it a couple of times and then let's get deeper.
How To Play the Ramsey Lewis Lick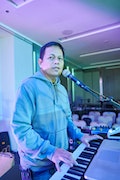 To get started, listen for a few things like the tempo and rhythm.
Love's Serenade sounds smooth with that R&B ballad feel, similar to that kind of smooth jazz you'd hear from the 80s.
It's slow at about 68 bpm but with 16th-note R&B subdivisions. This is important to take note of to get the feel right.
Try and listen for the key. The tune is in the key of G minor.
Since we're talking about jazz or jazz-influenced R&B, we can immediately think of using a G pentatonic minor and G natural minor scales to figure out the notes we need.
Start by trying to sing the lick itself. This is the sort of method that jazz piano legends like Lennie Tristano would use to learn solos.
Trust me, it's better to learn it like that since it will solidify it into your own vocabulary.
Now start playing the lick by ear on the piano. Don't worry if you don't get it right for the first time.
Give it a couple of tries so you can make out the idea.
If you can, write out the lick you just discovered from Ramsey Lewis.
However, if you want to skip ahead and read the lick for the sake of saving time, I have just transcribed it for you.
Here's my transcription of the lick for you to learn:

Take note of where the grace notes are placed. This is how Ramsey Lewis makes his lines sound bluesy.
You can also add at the beginning of the lick a slide from Gb to G to make it sound more soulful.
Now that you have the lick, what else can you do with it to make it your own?
Read on.
How To Make The Ramsey Lewis Lick Part Of Your Soloing Vocabulary
Now that you have learned the lick, let's look at some ways to make it part of you.
Play the lick over any chord progression in the key of Bb or Gm. Experiment with it and see how it can work in chord progressions like 2-5-1, 1-6-2-5, b6-5-1, etc. You might need to adjust it here and there to fit the chords but that's how you really incorporate it into your playing.
Transpose the lick in different keys.
Play the lick in different rhythms, different tempos, and varying feels.
Use it in in your improvised solo over tunes. One example that I've tried before is using the lick over an improv in Stella By Starlight.
The question now is how do you take this up an even higher notch?
One Secret Of Award-Winning Musicians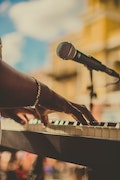 Have you ever wondered how jazz greats like Ramsey Lewis, Oscar Peterson, and Chick Corea pull off such wonderful music?
Are you struggling to understand what exactly it is that they do and how they do it?
You might be trying to do a trick here or there you learned from YouTube but you never seem to get it right.
You see, the secret of the award-winning musicians is that they had great mentors.
Instrumental guitar legend Joe Satriani had Lennie Tristano. It was Lennie's mentorship that became a huge part of Joe's style.
Al Di Meola had Bob Aslanian teaching him the ropes of jazz guitar.
Mary Lou Williams played with Duke Ellington.
I can go on and on about the pros but why not get the skills to sound like one?
You can get the ideal jazz piano mentor by joining our Jazz Inner Circle.
Our Jazz Inner Circle faculty consists of award-winning, world-touring, and Grammy-nominated jazz pianists ready to share their secrets with you.
Inside the Jazz Inner Circle, you'll discover:
Private 1:1 lessons with one of our FJL Certified Teachers
"The Jazz Piano Mastery Program" (Over $25,000 worth of jazz piano training resources, tools, practice templates, improv strategies, & tons more.)
"The Ultimate Jazz Workout Training System." This is where we implement a complete practice program to build your jazz piano talent in record time.
Get jazz piano training on a 1-on-1 basis here.
Final Thoughts
While it is unfortunate that the world just lost one of its jazz piano legends, Ramsey Lewis's legacy can live on through the music he shared.
By learning from his playing, Ramsey Lewis's music will live on.
Happy practicing.