It's time to learn some fantastic moves and tricks for playing outside jazz.
You can use the moves in today's video to magically reinvent any bland licks and bring a ton of energy and excitement to your improvisation. It's powerful! Ready to get started learning?
Special Jazz Improvisation DVD Sample Tutorial
In this video legendary jazz pianist David Garfield shows you a powerful improv technique we call "side stepping".  Watch the vid to learn this must have move!
The tutorial above is a sample from our new jazz improvisation training program. It's called "The Jazz Improvisation Super System" 3 DVD set. (The course releases on Monday, October 2th, 2017)
We're still 14 days a way from the release and we want to get you started learning asap!
What Is The Jazz Improvisation Super System?
Last week we released our first 2 samples of the course. And since that time my inbox has been flooded with questions. Thank you so much for your incredible response so far!!
Many people have asked what they'll get access to inside this special 3 DVD set.
Here's a sample list….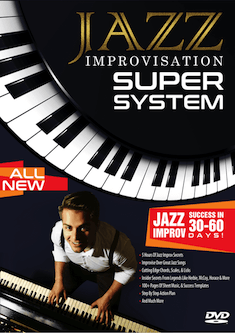 Over 5 hours of Jam Packed Video Training On Jazz Improvisation.
116 Pages of Downloadable Sheet Music, Transcriptions, Written Examples, Licks, Chords, Templates, & Jam Tracks.
A Complete Method That Shows You How To Improvise Over The World's Greatest Jazz Songs With Ease.
The Specific Jazz Piano Voicings That Sound Best In Today's Jazz Improvisation. (Hint: If Your Not Using These You Run The Risk Of Sounding Outdated At The Keys.)
97 Examples Of How To Turn Boring Old Fashioned Scale Exercises Into Unlimited New Patterns & Melodies. (Learn How To Do This & You Can Spin Almost ANY Musical Concept You Learn Into A Great Improvisation.)
Helpful Text On Screen For Those Who Like To Learn More By Ear.
Rarely Revealed Harmony Secrets From Greats Like Herbie Hancock, Chick Corea, McCoy Tyner, Horace Silver, Cedar Walton, & More.
Note For Note Transcriptions & Video Of Live Jazz Solos That You Can Use To Quickly Add Hundreds Of New Playing Techniques Under Your Fingers.
Simple Scale Hacks That Let Even Total Newbies Play Solos That Sound Fluid, Creative, & Musical.
A Powerful Collection Of Jazz, Latin, & Afro-Cuban Piano Bonuses To Explore
And So Much More…
But we didn't stop there…
I'm Doing Something Big For This DVD Launch
Music is supposed to be about having fun right? So, I like to bring a fun and celebration feel to our product launches.
That's why I'm excited to announce we're doing something special for the 1st week the DVD is released.
We're including 5 extremely special fast action piano bonuses. From studies of 5 modern jazz masters, afro cuban piano, and comping chords I think you'll love the bonuses.
Update: The Jazz Improvisation Super System has been released. 
Click here to grab a copy of this powerful jazz improvisation course.
You Deserve To Learn From The Best
This special DVD set is the world's first jazz improvisation course taught by an authentic 1st call L.A. jazz studio musician. Plus, he's also the musical director for many of the most famous jazz musicians in the world.
David Garfield, and I created the "Jazz Improvisation Super System" program after spending literally THOUSANDS of hours on stage, in the rehearsal studio, and in lessons with students.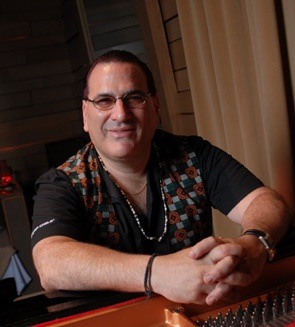 Fortunately, you won't have to spend thousands of hours and years of your life.
We've made the learning process easy for you. So, we put tons of our jazz improvisation discoveries in the DVDs.
Yes, we share hundreds of our most closely guarded jazz improvisation and jazz piano secrets.
David has toured and recorded with some of the biggest names in music. (George Benson, Freddie Hubbard, David Sanborn, Natalie Cole, Manhattan Transfer,  Don Henley, Eddie Van Halen, Michael McDonald Boz Scaggs, Cher, Michael Bolton, and so many other greats.)
95% of piano players don't know these techniques. And those that do rarely share them. David is a generous soul!
Speaking of cool things….
Cool New Resources Being Released Next Week
As many people know, I like to release free tutorials and resources whenever we release a new product.
It's just my way of saying thanks to the community. So, next week we have another cool sample video we'll be releasing. It's one of the most fun videos we've created.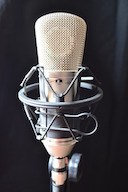 I did a voiceover on the new video and I got to pretend I was a radio announcer.
I first played the 'radio announcer' when we launched The Breakthrough Blues Method and I heard from so many people that they loved the trailer.
So, I reprised my role with a brand new program.
David takes an amazing solo in the video too over the tune "Footprints" by Wayner Shorter.
Needless to say, I'm super excited to share this new one with you! It may be my best yet. 🙂
In the meantime jump in and start learning the side stepping technique for "playing outside jazz" in the video above.
Remember, you can use the half stepping down "decoration move" that David teaches you in the video on any type of chord and in your blues and rock tunes too. Super versatile!
You can even see David use it on action at 45 seconds in on this video…
If you have questions on this lesson, about playing outside jazz techniques, jazz improvisation, or about the DVD please leave a comment below.
You can also or email us using the contact form at the top of the site. I'm always happy to help!