Slick Gospel & Blues Piano Riff Tutorial
Ready to learn a new super slick gospel and bluesy piano riff? Let's do it!
In today's video I'm going to teach you this fantastic piano riff. You can use it in blues or gospel playing to create energy & excitement. Audiences love this!
Why A Free Gospel Bluesy Piano Riff Video?
I've filmed this free video below to celebrate the  launch of our fantastic new course, "Play Like Ray".
Blues Hall Of Fame Pianist, Bruce Katz & I have partnered to create this revolutionary new piano training program.
Update: Play Like Ray has been released! Click here to grab a limited copy now. 
We've got some awesome blues, gospel, jazz, & country resources to share in the meantime…
How To Play Soul Drenched Bluesy Gospel Piano Riffs
Do you like these amazing sounding pivot chord piano riffs like I teach in the video above?
Then, you'll love the sample tutorial we release next week.
Next week, Bruce is going to show you a fantastic voicing formula that Ray used to make his jazz chords sound 10x bigger.
If you're stuck playing the same run of the stock chords and want to get a lot more power and soul out of your chords then you'll love the next sample video.
It's a small taste of the amazing material you'll learn in the 2 DVD set.
What's In The Play Like Ray 2 DVD Set?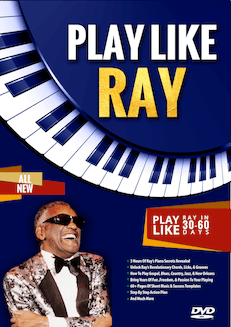 We've received over a hundred emails just in the last week about the course.
I think that's pretty exciting considering we're still 3 weeks away from the release.
Many people have asked what they'll get access to inside special 2 DVD set…
What You'll Discover Inside The Program
Over 3 Hours Of Ray's Revolutionary Piano Secrets Filmed In HD.

A BIG Collection Of Sheet Music For Ray's Best Chords, Grooves, & Licks.

Unlock Ray's Soulful & Inventive Piano Chords.

How To Play Tons Of Ray's Best Piano Licks. 
Helpful Text On Screen For Those Who Like To Learn More By Ear.
A Step By Step Breakdown Of Ray's Mesmerizing Piano Grooves In Blues, Jazz, Country, Gospel Styles, & More.
How To Play Ray's Exact Piano Parts From His Most Iconic Classics. (Unlock The Mind Of A Piano Genius).
Improv Secrets That Ray Used To Take Great Solos Over Blues, Jazz, Gospel, & Country Tunes.
Special Practice Tools, Templates, Checklists, & Action Guides That Will Have You Playing Just Like Ray & Bring Fun, Freedom, & Passion To Your Playing.

Pro Drum & Bass Jam Tracks & 

MIDI Files Of Every Song, Chord, & Lick So Practicing Will Be Fun & Easy.

A Powerful Collection Of Boogie Woogie, Rhumba, & Gospel Piano Bonuses To Explore.

Instant Online Streaming Available For Those Without A DVD player.

And So Much More…
Update: Play Like Ray has been released! Click here to grab a limited copy now. 
Why This 2 DVD Set Will Be Special For You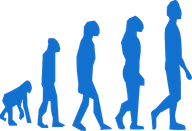 It's simple: Music is evolving. Today, it's essential for piano players to be able to play multiple styles. You don't ever want to be thought of as a 1 trick pony.
The problem is that there is only 24 hours in a day. How do you learn all these different styles? Do you study 100's of piano players and transcribe for years?
Do you quit your jobs, never see your family, and sit at the piano forever and study all these players? No! We can't do that. So, what's the solution?
An Easier Way To Get Great At Multiple Piano Styles?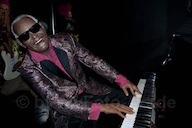 So, what I always tell people to do (if you really want to shortcut this process) is to study the playing of the legendary piano player, Ray Charles.
Ray had it ALL In his playing! One of the greatest piano players of the last 100 years! 
Now, up to this point there really hasn't been a step by step course that teaches you truly how to play like Ray.
Ray always sounds amazing! But, It's been frustrating for 99% of people to pick out the parts off his recordings. So, how do you figure these genius piano parts if you don't have a perfect ear or a million hours a day to practice?
How To Play Like Ray Charles: The Smart Way
Well, I'm excited to announce that we've done all the work for you in this course.
Inside the course we're going to be breaking down step by step Ray Charles' piano style.
A deep exploration of Ray's approach to blues, jazz, gospel, country, & New Orleans style.
It's a step by step breakdown of his fantastic chords, intoxicating grooves, killer licks, classic songs, mind blowing techniques, & so much more.
I'm so excited to see the dramatic growth in your talent when you learn all these amazing Ray Charles' playing secrets.
Which leads me to my next important point….
Learn From The #1 Expert On Ray Charles' Piano Styles
You deserve to learn from the best. A great piano teacher is your key to becoming a great piano player.
That's why I've partnered with Blues Hall Of Fame Pianist, Bruce Katz, to create this amazing 2 DVD set.
Bruce is the world's foremost authority on the piano stylings of Ray Charles.
Not only was he the piano player for David "Fathead" Newman (Yes, the guy who took all those iconic sax solos on Ray Charles' hit songs).
But, Bruce has also played with a who's who of blues. (The Allman Brothers Band, Chuck Berry, Bo Diddley, Delbert McClinton, and many others.)
And he takes his experience from the stage and shares so much with his piano students.
(He even taught blues and soul jazz piano at the Berklee College Of Music for 15 years too!)
A great player and a skilled teacher. A rare combo of talents.
We're all in for a treat!
Update: Play Like Ray has been released! Click here to grab a limited copy now. 
More Tips To Help You Learn Today's Piano Riff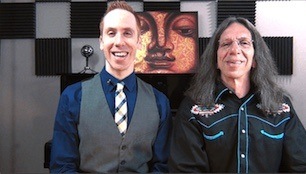 We'll be sharing more resources from Bruce & Ray in the coming weeks.
In the meantime invest some time into the piano riff video above.
1. Notice how I voice the A7 chord in a much different way than most players do. Can you hear how much more "meat" there is to that voicing?
This is a very common technique in gospel piano chords and a tribute to Ray Charles.
2. Also, pay close attention to the little fills I play. These come from the major pentatonic scale and the jazz blues scale.
Even though I'm playing this piano riff over a blues chord progression, you can use the chord pivots over any dominant chord.
3. I'm using a combination of syncopation, short notes and, accents to really make this lick groove and sizzle.
Can you hear how these little rhythmic tricks make the lick groove so much harder?
How We'll Unlock Your Piano Talent
We've got a ton more of these fantastic piano riffs, chords, songs, grooves, theory secrets, and more we'll be featuring in the new 2 DVD set.
If you want to improve your chords, rhythm, repertoire, licks, and bag of tricks, you'll love what Bruce shows you inside the program.
In the mean time grab the bluesy gospel piano riff from the video above. It's a cool one and will definitely get you started.
Enjoy your practice on this piano riff and we'll see you next time!
——
If you have questions about this lesson or the new 2 DVD set, feel free to leave a comment below. I read every comment and I'm happy to help you.
Special note: Yes, there will be an instant online streaming version of the course too! 
Update: Play Like Ray has been released! Click here to grab a limited copy now.