Hey you! After lots of requests, I'm very excited to announce that I've compiled many of the free samples from my our Premium Jazz Piano Training Program. 
Today, I'm releasing them all together. Plus, to celebrate this compilation I'm giving you access to some free jazz resources below. Let's get started!
First, check out the course sample video #1 right here
Now, here comes the even better part….
We've Done Something Amazing For This Course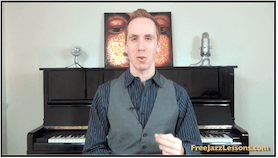 I've done thousands of live gigs over the years.
So, I like to bring a celebration feel to all my courses. Music learning should be rewarding, motivating, full of richness, and fun right?
That's why I'm thrilled to announce that we've done something really special for this course.
Not only do you gain instant access to over 18 hours of in depth jazz piano playing secrets when you subscribe, but now I'm also including 3 awesome fast action piano bonuses with the program as well.
Now, let's take this a step further….
Here's A Recap Of The Free Jazz Resources We've Released
Whenever I release new courses I like to send out free resources and sample videos. It's just my way of thanking the community for their amazing support.
So, here's a compilation of them together for you to enjoy. Enjoy these free sneak peaks!
1. Summertime Tutorial
We have tons of beginner training inside the program. Summertime is just 1 of the many tunes in there. And it's a great tune for beginners to learn essential jazz chords in a step by step way. 
The tune is only 16 measures long but it contains many of the most common jazz chord progressions. So, by learning it you're also learning common patterns that you'll find in hundreds of other tunes.
Have fun learning how to play one of the most frequently requested jazz songs ever, Summertime by George Gershwin.
2. Stella By Starlight Tutorial
Here's an other free sample from The Premium Jazz Membership Course
If you're more of an experienced jazz musician and already know some tunes that's great! Now, you're ready to learn the next level techniques that pros play on tunes. You know the moves that really turn heads?  
Most people play the jazz tune Stella By Starlight in a very bland way. Once you learn how to play the reharmonizations I apply to Stella, you're playing will never be bland again.
Inside this sneak peak you're going to learn how to play some incredible chord voicings for the classic jazz standard, Stella By Starlight. Enjoy!
By the way, we have 3 levels of arrangements for every song inside this course (beginner, intermediate,e and advanced).
So, students can achieve success & ascend to more impressive and more robust sounding playing in a systematic way.
3. Straight No Chaser Tutorial
Every jazz pianist needs to know how to play blues. That's why I want you to learn a blues written by one of the most amazing jazz composer ever, Thelonious Monk.
If you don't know Straight No Chaser yet, now is the time to learn.  
It's an essential jazz tune that all aspiring jazz pianists need to know! This is especially true if you need help with your rhythm or want a quick win because you don't have all day to practice.
And we are just getting started…
What Is The Premium Jazz Elite Membership Program?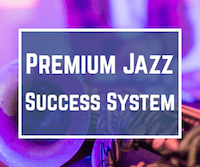 If you enjoyed any of these free samples then you're going to love the this program.
I've put my heart and soul into putting this program together for you and I can't wait to see all the wonderful progress you're going to make!
Some Of What You're Going To Discover Inside The Program.
Over 18+ hours of HD quality streaming videos just to get you started.

Learn essential jazz standards.

3 full arrangements of every song (beginner level, intermediate level, advanced level).
Downloadable complete notation of every single arrangement.

Free chord charts.

Downloadable MIDI files of each arrangement.

You don't need to know how to read music either. Tons of on screen video and text that makes learning every note fun, easy, and accessible.
Harmonic analysis videos to help with your jazz theory
Licks library where you can learn how to build and play your own tasty jazz riffs and unlock your creativity.
The Improv Drills Library where you can learn to improvise over the best jazz songs in the world, unlock your creativity, and build killer sounding solos.
The Chords Library where you can learn how to play the most important jazz chords every great jazz pianist needs to know. This is especially powerful if you'd like to accompany and play with other musicians or just play solo piano!

Easily play, pause and rewind the video as much as you like!

Every arrangement contains incredible tips and tricks on reharmonization and the type of chords you hear only pros using.
Break down every chord and every move so you can watch over and over again.
Hours and hours of killer jazz tunes to explore and perform.

Systematically updated with brand new tunes and arrangements.
To get access to the entire program just go right here —–> www.freejazzlessons.com/premium
What's Coming Next For You
I hope you have a blast exploring these free preview lessons and I am so excited to hear about all of your progress. Looking forward to seeing out on the other side!
If you have questions at all about the program i'm happy to answer them. Please feel free to leave a comment below.
Sincerely,
Steve Nixon
P.S. Did I mention that we also have a motivation videos module and a practice success module inside the program as well? If you need help staying organized and focused we've got tons of goodies inside the program to help you succeed. You can check out the whole program right here —> The Premium Jazz Elite Membership Program