Do you love playing Christmas piano music? Then, you've come to the right place!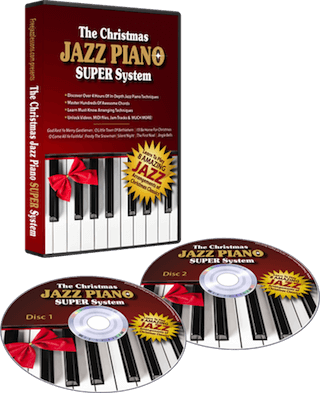 I'm excited to announce that we've finally opening the doors again on "The Christmas Jazz Piano Super System!"
In honor of this special occasion,  I want to share a free Christmas piano tutorial today.
In this video lesson I'm going to teach you how to play "The First Noel" using a rich and pro jazz piano style.
If you want to learn how to take a simple melody with bland chord changes and turn it into a pro jazz piano arrangement than I think you'll really enjoy this lesson.
(This is just a small sample of the over 4 hours of powerful training that's packed inside "The Christmas Jazz Piano Super System".)
(==> You can get access to the entire program by clicking right here)
Free Christmas Piano Tutorial Video
Take a few minutes and get started exploring the video below. Then, scroll down for some more important info.
How To Turn Basic Chords Into Jazz Chords
The basic chord changes for "The First Noel" just feature I, IV, & V7 chords. In the key of D that would D, G, and A7.
The basic chords are not very inspiring. They definitely leave a lot to be desired.
So, in the free tutorial above I'll show you how to bring the tune new life by adding several jazz piano harmony moves into the Christmas song. 
You'll hear things like: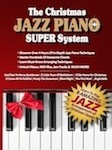 How to substitute II-V-I chord progressions, reharmonizations, addding extensions to chords, decorating chords using altered notes, how to harmonize pick up notes, and more.
It's just a small sample of the type of skills you'll learn inside "The Christmas Jazz Piano Super System DVD".
For example, you'll find:
The complete arrangement and video lesson for "The First Noel".
8 complete arrangements of Christmas classics brought to life in a jazz piano style. So you can impress friends and family with a huge variety of music to play this Christmas season.
The fully notated sheet music for every tutorial so you'll be able to pinpoint every single note and learn at your own pace.
MIDI files that you can play in all your favorite music programs.
Helpful text on screen that will accelerate your learning and shave hours of your learning time. (This is the perfect solution if you prefer to learn more by ear!)
Jam tracks to give you the awesome experience of playing with live samples of real bass and drums.
Every Christmas song inside the DVD is packed full of playing techniques.
I'm very serious about helping you become the best musician you can be. I don't mess around when it comes to jazz piano education! 🙂
What's Coming For You Next
The holidays are fast approaching. So, I always encourage students to start practicing their Christmas music early. This is especially true if you want to impress your friends and family this holiday season.
Got to get your music down. Fortunately, I show you how to do that inside the program. Plus, there great songs to know period!
Enjoy today's Christmas piano tutorial and let me know if you have any questions on "The First Noel" or "The Christmas Jazz Piano Super System". I read every comment and I'm happy to answer questions or help you in any way that I can.
Sincerely,

Steve "I Love Playing Jazz Versions Of Holiday Classics" Nixon
P.S. I'm throwing in some killer bonuses with this 2 DVD program. You can check 'em out right here ==> www.freejazzlessons.com/christmas