"How To Revolutionize Your Christmas Music Using A Brand New Easy To Follow Jazz Piano Method"
If you love Christmas music and jazz piano and you don't want to pay

thousands of dollars

for lessons then this is probably the most important message you're ever going to hear.
You're not alone.  Musicians everywhere struggle to find ways to make their playing sound more exciting, soulful, and rich.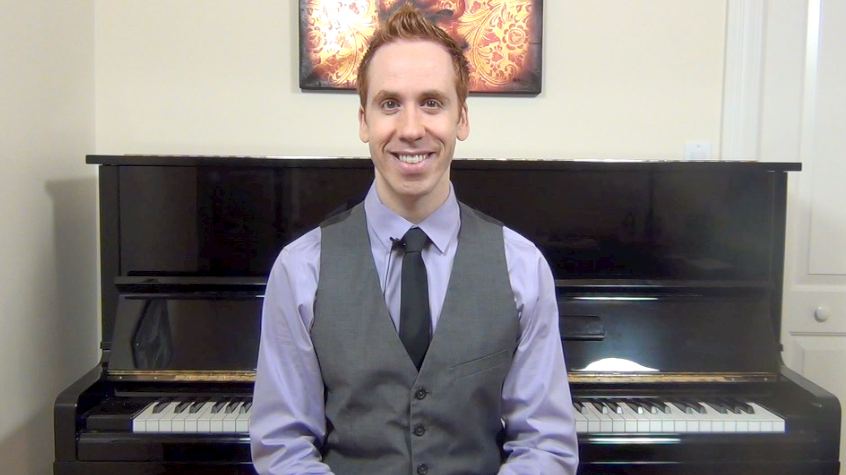 There's Got To Be A Better Way To Learn To Play Christmas Music
This Christmas, imagine yourself sitting at the piano bringing joy to your family and friends as they gather around delighted and surprised at the way you skillfully bring Christmas classics to life.
Imagine the delighted look on their faces as you effortlessly play through Christmas classics with incredible style and skill.
You absolutely have the ability to play piano like this but you need access to the right training in order to get there.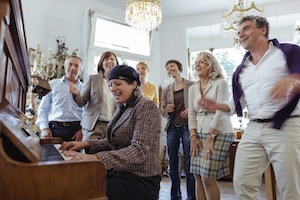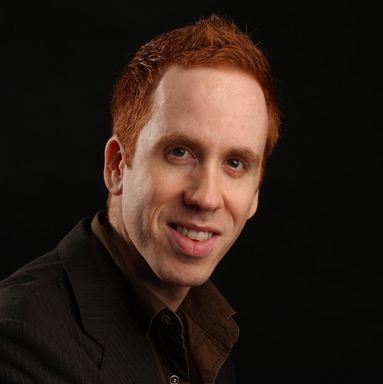 How You Can Get Powerful Piano Training This Holiday Season
Hi. My name is Steve Nixon.
I'm a world touring jazz and blues piano player. In the last 10 years I've played over 1800 pro gigs in over 17 countries, performed with Grammy award winning artists, and taught over 12,000 piano lessons.
I'm also the author of the #1 jazz piano education website online with over 60,000 jazz piano students viewing my courses each month.
During this time I've heard from thousands of frustrated piano students tired of playing watered down versions of Christmas songs who wanted a real solution.
So, I've finally developed a brand new course that will teach you how to play Christmas music unlike you've ever experienced before. 
This is my exclusive method that I've used to entertain hundreds of thousands of people all over the world for over 18 years.
And the best part is that I personally guarantee it will work for you.
The even better news is you can learn my entire Christmas music method from the comfort of your now home in my new video course:
"The Christmas Jazz Piano Super System" Course
In this jam packed 4 hour course you'll discover: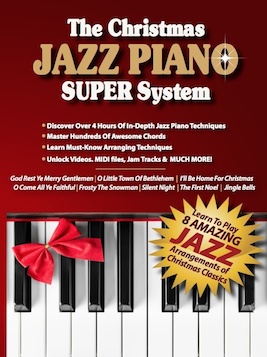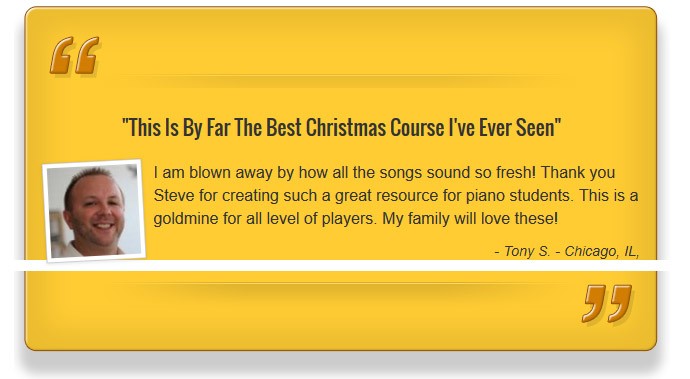 New and unique jazz rhythmic skills that will add sophistication, fun, and excitement to every tune you play. Breathe new life into all your music!
Professional arpeggiation techniques that you can use to decorate your favorite ballads in any style of music including jazz, pop, gospel, and more.
Fingering tricks that will add speed and dexterity to your playing so you can feel more comfortable and play your songs with ease.
Must know gospel pivot moves that will add soul and sophistication to the way you end your musical phrases.
My unique method I use to arrange songs that will help you build your own incredible sounding piano arrangements.
My special approach to reharmonizing the beginning of songs that will immediately draw your listeners in from the very first note you play.
Classic song endings that will leave your audiences delighted. (Every musician needs to know these.)
How to break up chords using special rhythm tricks that reenergize chords and make them sound unique and fresh.
Simple music theory formulas that will give you shortcuts to perfecting your favorite pieces quickly.
Inner voice motion that will have you sounding like your favorite musicians (Bill Evans and Oscar Peterson.)
Block chord techniques that will make your chords sound just like jazz master pianist George Shearing.
How to play chords that sound great in a jazz trio. If you love playing with other musicians than you'll love these voicings I teach you. Especially if you like playing with drummers and bass players!
How to build and play solo piano arrangements.
How to adjust chords for large or small hands so you'll be able play great no matter what size your hands are.
Exactly what to play when you have chords that are held for long periods of time. How to keep your music sounding exciting.
And TONS more.
PLUS...You have the option of instantly streaming the video and/or owning your very own DVD set.  So, you can learn and play from the video from anywhere at any time!
Here's What You Get Inside "The Christmas Jazz Piano Super System"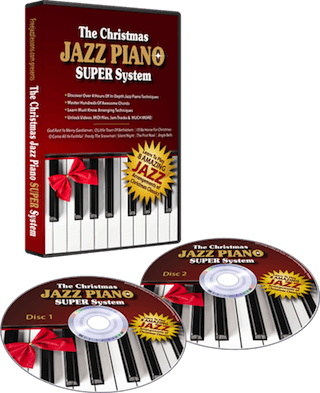 It's Time To Sweeten The Deal Even More.
I'm Going To Include These FREE Bonuses With Your Order Today. (For A Limited Time Only.)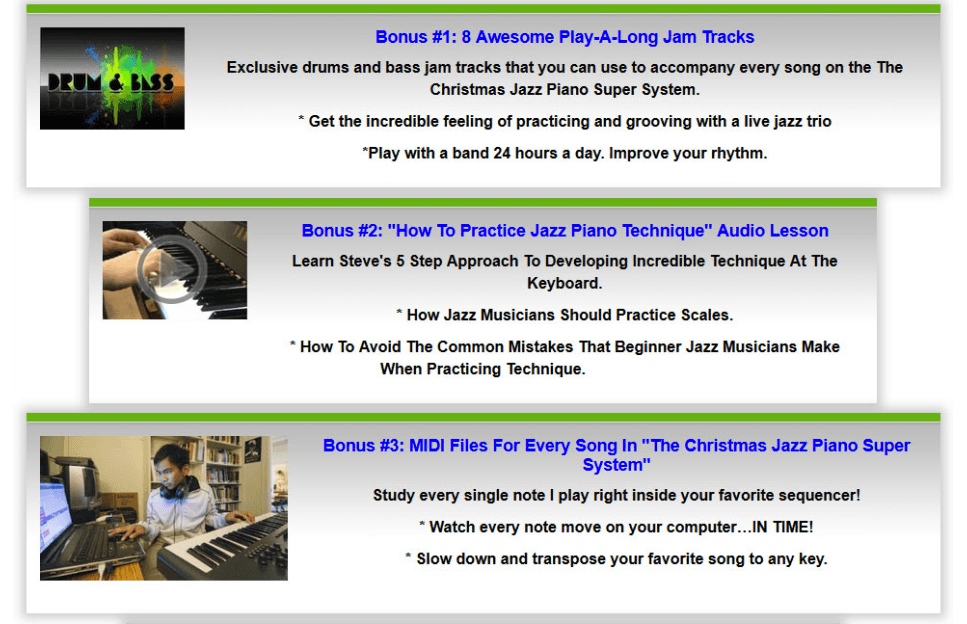 If you were to work with me 1 on 1 as a private student for over 4 hours you would have to invest $500 for your sessions with me.
In order to make this product available to everybody though I've decided to price "The Christmas Jazz Piano Super System" 2 DVD course at a fraction of that cost.
You're going to be learning my BEST secrets for playing Christmas music and jazz piano all in the comfort of your own home.
Additionally, you'll be able to watch as I break down each concept in depth as many times as you like and you're only going to pay a fraction of what it would cost to hire me 1 on 1.

Plus, as an added bonus I'm including FREE shipping on your order.
Get The Christmas Jazz Piano Super System Now!
INSTANT ONLINE STREAMING
$69.95
* Watch Instantly Right Now

* Watch Online. Anywhere. Anytime.

* Learn Awesome Christmas Piano Music
2 DVD Package
$79.95
* Learn Awesome Christmas Piano Music
INSTANT ONLINE STREAMING + BACKUP DVDs
$93.95
* Convenience & Portability

* Watch Online Or Offline

* Learn Awesome Christmas Piano Music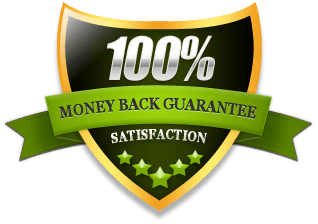 "My 30 Day 100% Money Back Guarantee..."
Here's my Completely Risk-Free, No-Worries, Guarantee
This course comes with my 100% money back guarantee for 30 days. If you don't like it for any reason all you have to do is send me an email and say 'refund please' and I'll promptly refund you.
No questions asked. Plus, you can keep the bonuses that I offer with the program.
You do not risk anything by ordering now.