Want some stride piano tips? Are you looking for some more interesting ways of playing your favorite jazz standards and chord progressions on piano?
Well, in today's jazz piano lesson we're going to study a classic rhythmic way of doing this called stride piano. (Video lesson, notation, and tips below.)
This particular style was made famous by many great players like Art Tatum, Oscar Peterson, Willie "The Lion" Smith, James P. Johnson, and Fats Waller.
It's a very fun style to play and it can immediately add some variety and sophistication to your jazz piano arrangements. Plus, it's not to hard to learn!
Lets get started learning now! I suggest you watch the video below first and then scroll down for notation and extra tips.
Stride Piano Lesson Notation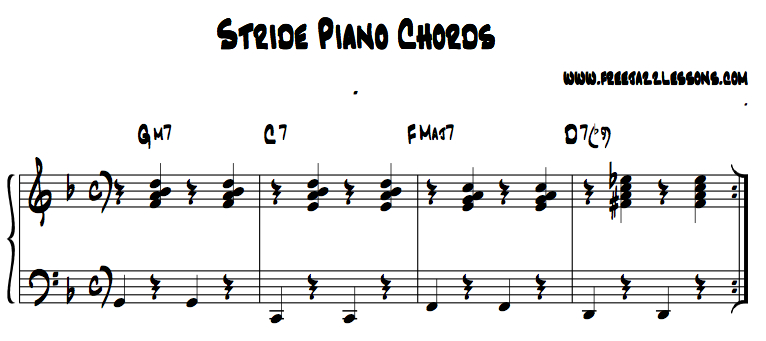 Click to expand. Feel free to share on Facebook or Twitter as well. Please credit freejazzlessons.com
8 Tips To Help You Master This Lesson
1.The chords I'm using are rootless voicings. If you need more help building these chords then check out this whole lesson on rootless piano chords.
2. The basic concept behind stride is a low bass note is played on beats 1 and 3 and chords (toward the center of the piano) are played on beats 2 and 4.
3. You can add the stride piano rhythmic style to almost any jazz standard that's in 4/4.
4. This particular style would even work great on many rock classics. For example, songs like "When I'm 64" by The Beatles or "Bennie and The Jets" by Elton John.
5. In order to speed up the tempo on stride piano and not drag always remember to keep your hands close to the keyboard.
In other words, don't make your leaps broader motions than they need to be. It's inefficient and cause you to drag your timing.
6. The final chord I play is a D7 chord. I'm using a flat nine as an extension on top but really you could use any note as an extension from the altered scale.
7. If you need more help learning jazz piano then check out this huge list of other jazz piano lessons
8. For a super fun and killer example of stride check out this Errol Garner video. It's sort of an older fashion or "retro" sound but very fun none the less!
He starts striding about 27 seconds in.
Now, let me turn the floor over to you. What songs would you like to add stride piano into? What do you think would work great with stride?
If you're already playing stride what songs are you using it on? Please leave a comment below.
*************
If you enjoyed this lesson please be sure to subscribe to the freejazzlessons email list. (Right below this article or on the top left)
You'll receive all the latest and greatest lessons as soon as their published. Right in your inbox!
You'll be joining one of the fastest growing jazz education communities online today!