Mixolydian Scale – Sweet Improvisation Tips
Want to learn how the mixolydian scale can be used to create endless streams of improvisation ideas? Well, you've come to the right place.
In today's video I'm going to teach you some killer scale tricks that will be a great source material for soloing, creating melodies, and fills.
Why A Free Mixolydian Scale Shortcuts Video?
I've filmed this free video below to celebrate the launch of our brand super course, "The Jazz Improvisation Super System".
Legendary jazz pianist David Garfield & I have partnered to create this revolutionary new jazz improvisation training program.
How To Turn 1 Chord Into Endless Melodies
Do you like how I take 1 simple chord and turn it into an endless stream of improvisation ideas like I teach in the video above?
Are you stuck playing boxy improv?
When you play melodies do they sound run of the mill, unimpressive, or remedial? Want to get more power, style, and soul out of your melodies and improvised lines?
Then, the video above will get you started.
It's a small taste of the amazing material you'll learn in the 3 DVD set.
Update: The Jazz Improvisation Super System 3 DVD set has been released!
Click here to get access to the entire course
What's In The Jazz Improvisation Super System 3 DVD Set?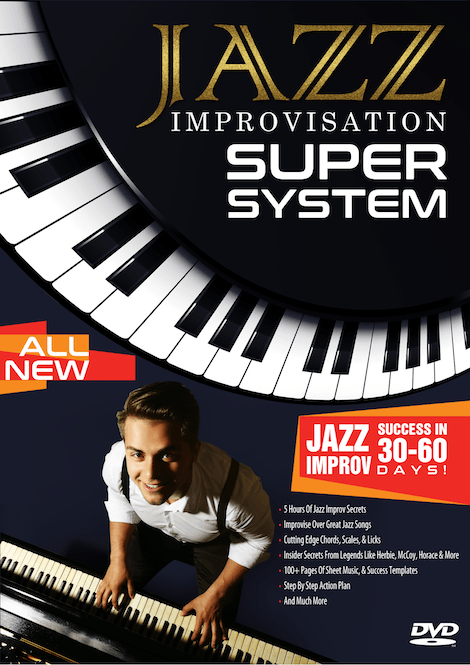 We've received over a hundred emails just in the last week about the program.
I think that's pretty exciting.
Many people have asked what they'll get access to inside special 3 DVD set…
What You'll Discover Inside The Program
Over 5 Hours Of Jazz Improvisation Secrets Filmed In HD.
116 Pages of Downloadable Sheet Music, Transcriptions, Written Examples, Licks, & Templates.
A Complete Method That Shows You How To Improvise Over The World's Greatest Jazz Songs With Ease.
Rarely Revealed Harmony Secrets From Greats Like Herbie Hancock, Chick Corea, McCoy Tyner, Horace Silver, Cedar Walton, & More.
Helpful Text On Screen For Those Who Like To Learn More By Ear.
The Most Cutting Edge Chords, Scales, And Harmony Secrets That Today's Top Musicians Must Know.
David's Tricks For Personalizing Every Tune You Play Using Pro Chord Substitutions (Move #2 and #6 Work Like A Charm Even On Audiences Filled With Other Musicians.)
Note For Note Transcriptions And Video Of Live Jazz Solos That You Can Use To Quickly Add Hundreds Of New Playing Techniques Under Your Fingers.
Simple Scale Hacks That Let Even Total Newbies Play Solos That Sound Fluid, Creative, & Musical. (This Is What Lets People Who Are Brand Spanking New To Improv Quickly Create Pleasing Solos Out Of Thin Air.)
David's Trick For Playing Confidently Over Fast Chord Changes (It's astonishing how few people know this, yet it's easy and even a person with "slow fingers" can do it.)

A Powerful Collection Of Jazz, Latin, & Afro-Cuban Piano Bonuses To Explore

And So Much More…
––> Explore what you'll be able to play inside this program right here
Why This 3 DVD Set Will Be Special For You
It's simple: A great piano teacher is your key to becoming a great piano player. You deserve to learn from the best.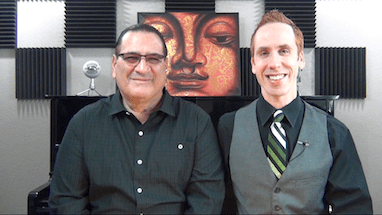 That's why I've partnered with legendary jazz pianist David Garfield to create this amazing program.
David has played with many of the biggest legends in the music industry.
People like George Benson, Freddie Hubbard, David Sanborn, Natalie Cole, Manhattan Transfer, Don Henley, Eddie Van Halen, Michael McDonald, Boz Scaggs, Cher, Michael Bolton, and so many other greats.
He is a genius jazz improviser. And he takes his experience from the stage and shares so much with his piano students.
(He even taught Fleetwood Mac's keyboard player Brett Tuggle for many years too! In fact, Brett attributes so much of his piano success to what he learned from David.)
A great player and a skilled teacher. A rare combo of talents.
We're all in for a treat!
More Tips To Make Great Music With The Mixolydian Scale
We'll be sharing more resources from David more in the coming weeks.
In the meantime invest some time into the video above.
1. Notice how I take 1 scale (the mixolydian scale) and I figure out all the chords inside the scale.
2. Also, pay close attention to how I combine different chords from the scale to build a chord progression. From there I create tasty little melodies featuring notes from each chord.
Even though I'm teaching this concept over just a dominant chord and I'm swinging, you're going to get a ton of mileage out of it by using it in many other styles and using it over different chord types.
3. One of the things that really makes this improv trick "pop" is resolving to a chord tone on either beat 1 or the & of 4.
Can you hear how it brings a sense of excitement and motion?
Improve Your Jazz & Piano Improvisation Today
We've got a ton more of these cool rhythm, scale, chords, songs, and accent concepts we'll be featuring in the new DVD.
If you want to unlock your creativity at the keyboard you'll love what David shows you inside the program.
In the mean time grab the one from the video above. It's a cool one and will definitely get you started.
Enjoy your practice and we'll see you next time!
P.S. Yes, we have an instant online streaming option available for those that don't have a DVD player.
Update: The Jazz Improvisation Super System 3 DVD set has been released!
Click here to get access to the entire course
——
If you have questions about this mixolydian scale lesson or the brand new program feel free to leave a comment below. I read every comment and I'm happy to help you.