Piano Run – Learn This Amazing Sounding Lick
Do you want to learn an amazing sounding piano run? Well, you've come to the right place (video and jazz piano tutorial below).
Over the next few weeks we're going to be releasing several brand new jazz tutorials and resources that will skyrocket your jazz improvisation skills.
So, whether you're a seasoned pianist, or you're just getting started learning how to play jazz piano, you'll enjoy all the awesome resources we'll be releasing in the next few weeks.
Learn From One Of My Best Piano Mentors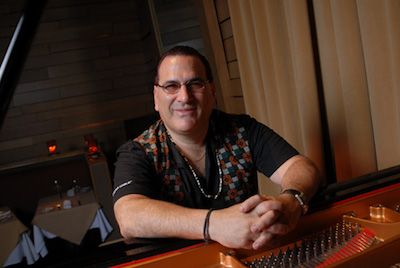 I'd like to introduce you to one of my best piano mentors, the legendary jazz pianist, David Garfield.
(David will be teaching you a mesmerizing and very useful pentatonic piano run down below.)
I first met David years ago. He was on tour with George Benson at the time.
I remember listening to him and just being amazed how somebody could get so much soul and creativity out of 88 keys. It was pure genius!
We quickly bonded when he found out how passionate I was about playing jazz improvisation and teaching jazz as well. We've been friends ever since.
Check Out Some Of David's Amazing Playing Through The Years!
You're Going To Learn From A Jazz Piano Master
David is one of those rare combinations that can play his tail off and also explain everything he's doing.
For example, David has gigged for many years with George Benson, Natalie Cole, Freddie Hubbard, David Sanborn, Eddie Van Halen, Michael McDonald, Don Henley, and many others great.
Not only is David the current music director for jazz legend George Benson but he's also plays with some of the biggest names in jazz & rock.
He's played on hundreds of great recordings with artists such as Cher, Boz Scaggs, Larry Carlton, Spinal Tap, The Manhattan Transfer, Keiko Matsui, The Rippingtons, and Smokey Robinson.
Plus, he personally taught me years worth of jazz improvisation knowledge. Life changing stuff for me!
A great player and a skilled teacher. A rare combo of talents.
Pentatonic Piano Run Tutorial Video
I want to always create the best jazz and improvisation resources in the world for you to learn from.
So, I'm excited to announce that David and I have partnered together to create an amazing new jazz improvisation program.
It's called….
"The Jazz Improvisation Super System" 3 DVD Set
We'll be talking more about this powerful course and all the amazing things you'll learn in the coming weeks.
But to get you started learning right away, David is going to quickly teach you how to play a super useful and tasty piano run. It's a sweet blend of pentatonic and hip sounding rhythmic techniques.
Learn David's first simple piano run lick here:
You'll hear this type of piano run being used in tons of songs.
The best part is that you can use it over lots of different chord types like minor 7ths, major 7ths, and dominant 7ths, and even more.
So, it's definitely great lick to know.
All The Cool Things To Explore Inside Jazz Piano
At it's core jazz is an improvisational style of music.
Like all rich styles of music there are lots of cool stylistic elements that you'll want to practice to get that rich soulful sound into your own playing.
For example, you can spend time exploring:
New jazz licks that you can use as models for your own jazz improv success.
Essential jazz scales that every musician needs to know.
Variations on jazz chord progressions (Cool moves you can throw into personalize every jazz tune)
The specific jazz piano chords and voicing that sound best in modern jazz improvisation.
Modal and scale patterns that are at the core of beautiful sounding melodies.
How to improvise freely over the most important jazz chords found in the coolest tunes.
Jazz theory and must have shortcuts that free your creativity (This helps you not get bogged down with endless formulas so you can just loosen up and have more fun at the keyboard.)
How to use pentatonics to make your playing more modern.
The special types of comping voicing that sound best when playing with other musicians.
How to correctly accompany yourself when taking solos so your left hand and right hand sound fantastic together.
How to correctly practice scales so you fingers can fly freely across the keys.
Impressive piano runs and moves that you can use to play over any chord you see.
How to add cutting edge jazz techniques to make your blues sound modern and fresh (think McCoy Tyner, Herbie Hancock, Chick Corea, Horace Silver)
Blues & bebop style improvisation
And so much more….
Improvisation is of course a big part of jazz piano playing.
So, you absolutely must have a catalog of great jazz licks and ideas to pool from.
The video tutorial above should get you started.
How To Improvise Jazz Piano Like A Pro
If you're not sure how to get all these different jazz stylistic elements into your playing don't worry!
We'll teach you how to play all of them like a pro.
And to celebrate the launch of the "The Jazz Improvisation Super System " 3 DVD set we'll be releasing several short action packed free jazz piano tutorials over the coming weeks.
They're going to be fantastic.
Stay tuned. In the meantime, enjoy today's quick piano run tutorial.
By the way, If you have any questions about this tutorial, the new 3 DVD set, or anything else… feel free to leave a comment below.
We read every comment and are happy to help.