Learn Piano From Grammy Nominated Piano Player Matt Slocum
One of the best ways to learn jazz piano is to sit down and talk with master jazz musicians.
Over the years, I've made some great friends while touring and met some incredible talent. I've learned so much from these musicians through late night jamming, hanging out, and just getting a chance to pick their brains.
So, today I wanted to give you insider access to an incredible conversation I had with my good friend, Grammy Nominated piano player Matt Slocum (audio interview below).
Listen To The Matt Slocum Interview Right Here
Who Is Matt Slocum?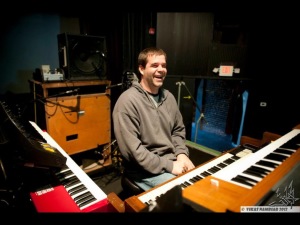 Matt Slocum is a Grammy Nominated keyboard monster!
He has worked with some of the biggest names in blues, rock, and jazz.
Some of the bands he's toured with are Oteil and the Peacemakers, Aquarium Rescue Unit, Jimmy Herring Band (Widespread Panic), Grammy Award winner Susan Tedeschi, and London based soul band The James Hunter Six.
He also recently did a tour with Victor Wooten, Steve Bailey and Jimmy Herring.
Currently, Matt is touring with Rich Robinson of the Black Crowes and Doyle Bramhall II from Eric Clapton's band.
Matt Is Now A Member Of The Jazz Inner Circle Faculty!
I'm also excited to announce that Matt is now one of our mentors inside our exclusive Jazz Inner Circle program. 
He will be working with you 1 on 1 to double your playing skills, build breathtaking performances, master the best chords, scales, songs, & revolutionize your improv skills over the next 12 months.
To say that Matt, is a special musician would be an understatement on many levels!
In this exclusive interview, I got a chance to sit down Matt and pick his brain on all things piano and jazz. 
In This Interview You Will Learn
How Matt found his breakthrough moments as he was developing his musical talent.
How he transitioned from a young guy with a dream to a gigging musician.
How Matt got his first major touring gig (and who it was with).
Advice for jazz piano beginners who are looking to improve their skills.
How he overcame things he musically struggled with over the years.
How Matt used jazz as a training ground to learn other styles of music.
What skills and mindsets separate a good musician from a GREAT musician.
Recommended recordings that Matt learned from and shaped his musicianship.
Some great hand independence exercises, scale exercises, and ear training tips
And much more…
Check Out Matt's Original Tune (With Jimmy Herring from Widespread Panic)
If you'd like the rare opportunity to learn 1 on 1 with Matt or with Steve Nixon you can apply for the Jazz Inner Circle program here. Spaces are limited so take action if you want to get to the next level today.
Recommend Resources In This Interview
Hanon Book: The Virtuoso Pianist in 60 Exercises
Vince Guaraldi Artist Transcription Book
Slominksi Thesauras of Scales & Melodic Patterns
Back To The River (Susan Tedeschi's Grammy Nominated album featuring Matt Slocum)
Please note that we do receive a small affiliate if you purchase through the links above. This is at no additional cost to you. This helps me recover a small portion of the monthly costs of running this site. We recommend products because they are helpful and useful, not because of the small commissions we make if you decide to buy something.  Please do not spend any money on products unless you feel you need them or that they will help you achieve your goals.
—————————
Did you enjoy this interview? Do you have questions you'd like to ask?
Please leave a comment below. We'd love to hear from you!