The Christmas Jazz Piano Super System Is HERE!!
Hey jazz piano and christmas piano fans!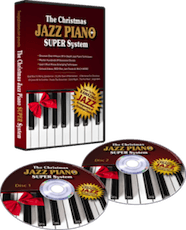 The Christmas Jazz Piano Super System is now LIVE and available today! You can get access to the course right here. 
https://www.freejazzlessons.com/christmas
As a reminder, I am including some very special and limited bonuses exclusive to launch week. 
Plus, I'm also including FREE shipping to anywhere in the world for the first 150 buyers. (First come first serve.) So, you'll want to go here and get pick up your copy right now so you don't lose out.
Thank you for your continued support of jazz education! I truly look forward to sharing all the powerful new content with you inside "The Christmas Jazz Piano Super System".
I can't wait to hear about your musical growth this holiday season!
Sincerely,
Steve "Make Your Family Happy With Christmas Music" Nixon
P.S. I've packed the course with over 4 hours of Christmas goodies and tutorials.
Christmas piano sheet music, MIDI files, jam tracks, bonuses, video tutorials, etc. etc.
You will have no shortage of music to learn this holiday. Enjoy!