Piano Jazz – A Special Resources Collection
Hey there! Ready to get your hands on some useful piano jazz goodies?
Well, today we're releasing the official trailer to the Zero To Jazz Piano Hero program! Plus, we're recapping the free piano jazz resources we've released in the last 2 weeks. Let's get started!
First, Check Out The Awesome DVD Trailer Here Now!
Update: The Zero To Jazz Piano Hero Program has been released! You can grab your copy by clicking right here 
Now, here comes the even better part….
We've Doing Something Spectacular For This DVD Launch!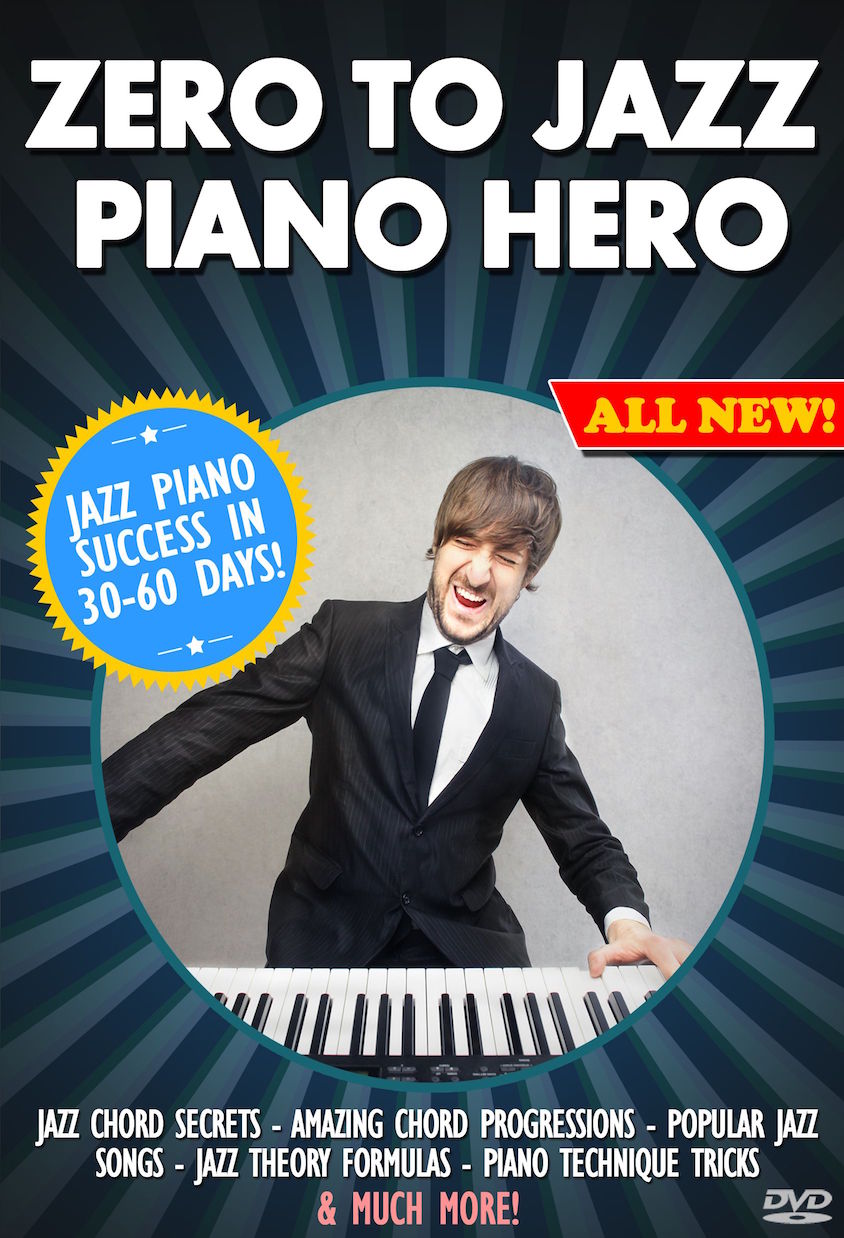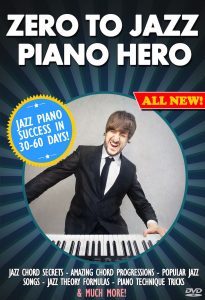 I've had the pleasure to  play over 1800 have live gigs over the last 15 years.
So, just like my live gigs, I like to bring a celebration feel to my product launches.
That's why I'm thrilled to announce we're also including 5 super piano bonuses with this product. These are all brand new and never been released before content.
You can check out the whole course and bonuses here
Now, let's take this a step further….
Here's A Recap Of The Free Piano Jazz Resources I've Released
Whenever I release a new product I like to send out free resources and sample videos. It's just my way of thanking the community for their amazing support.
In the last 3 weeks we've released some cool jazz goodies. So, here's a compilation of them together for you to enjoy.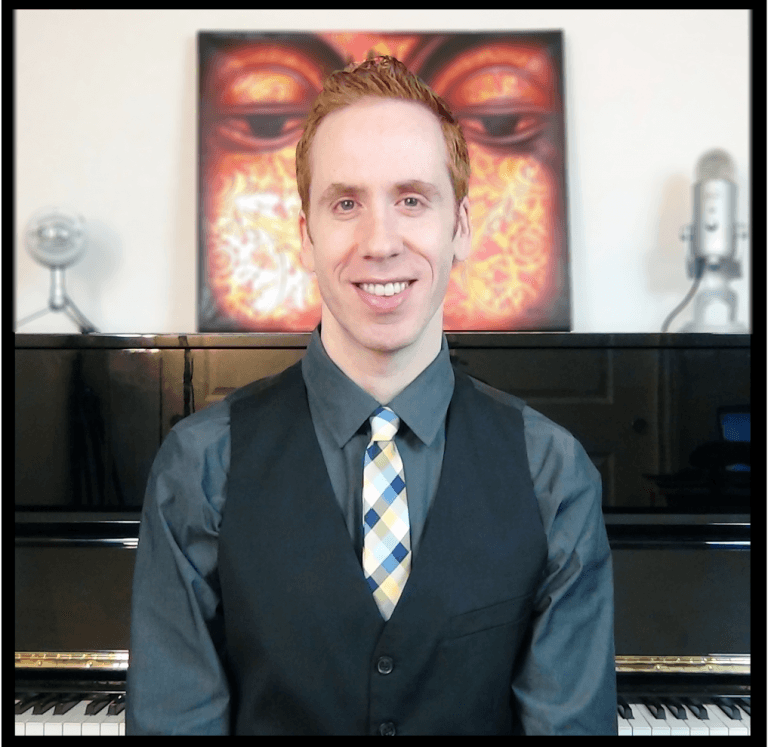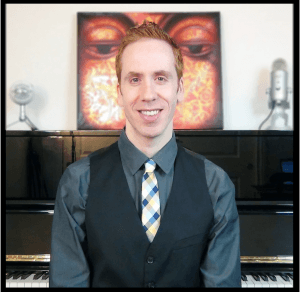 1. Major 7th Chord Tutorial – Play Like The Pop Legends
In this lesson I show you how Elton John, Bruno Mars, The Beatles, & John Legend use this easy major 7th chord to create magic in some of their biggest hits. Check out the major 7th tutorial here
2.  How To Play Fly Me To The Moon Like 2 Jazz Legends
In this video I show you how Bud Powell and Bill Evans would play chords on Fly Me To The Moon. So many cool things you can do with easy piano jazz chords. Check out the Fly Me To The Moon piano tutorial here.
3. Playing Piano Chords With Both Hands Tutorial
This video is a fun one. I show you 3 simple techniques you can use to transform 1 handed chords into 2 bigger 2 handed piano voicings. Explore this playing piano chords with both hands video right here.
4. How To Organize Your Chord Practice

Here's a free sample right from the "Zero To Jazz Piano Hero 2 DVD set." In this excerpt, I show you an easy way to organize your chord practice.
This is a great mini tutorial if you want to learn how I easily remember all the notes in my chords and progressions. Learn more about how to organize your chord practice here.
5. 2 Classic Piano Jazz Rhythms Every Pianist Must Know
Here's another free sample right from the "Zero To Jazz Piano Hero 2 DVD set." Learn about 2 rhythm techniques you can use to reinvent bland and boring melodies and chord progressions. Check out the 2 syncopation rhythms right here.
Now, we didn't stop there…
What Is The Zero To Jazz Piano Hero Program?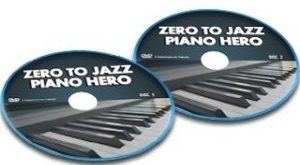 If you liked these free samples then you'll love the new DVDs.
I set out to create a brand new solution for jazz piano beginners.
Something that would streamline all those discoveries from my years in the practice room into a simple step by step solution for jazz beginners.
A clear method that will take you from zero to playing the best chords and songs you love in 30-60 days.
What You'll Discover Inside The Program
Over 4 Hours Of Beginner Jazz Piano Secrets Filmed In HD.
Sheet Music For Every Chord, Chord Progression, & Song Inside The Program.
Step By Step Method To Go From Zero To Playing Songs You Love In 30-60 Days.
Unlock Amazing Chord Progression Formulas That You'll Find In Hundreds Of Classic Jazz Songs.
Helpful Text On Screen For Those Who Like To Learn More By Ear.
Piano Technique Secrets To Get Your Fingers Flying Across The Keyboard With Ease.
Unlock Cool Scale Secrets That You Can Use To Build Any Chord In Any Key.
Chords Mastery Secrets That Only My Best Students Have Learned (Until Now That Is!)
Pro Jazz Jam Tracks & MIDI Files So Practicing Will Be More Fun & Easy.
Simple Fingering Tricks That Will Help You Build Incredible Muscle Memory & Speed.
The 4 "Power Practice Shapes" That Will Increase The Efficiency Of Your Practice Over 500%.
And So Much More…
PLUS…You have the option of instantly streaming the video and/or owning your very own DVD set.  So, you can learn and play from the video from anywhere at any time.
I'm Going To Send You A Free Transcription
Have I told you lately I love you? Well I certainly do! So, in a couple days I'm releasing another resource to celebrate the launch.
I'm going to be sending you a transcription of 1 of my most popular videos. If you're on our email list you'll get it right in your inbox!
In the meantime, enjoy today's trailer and enjoy the sample piano jazz lessons we've released. You're awesome and see you again on Friday!
If you have questions about learning jazz piano or the brand new 2 DVD set please leave a comment below or drop us a line using the contact form.
I'm happy to help and I read every comment!