Free Christmas Piano Jam Track!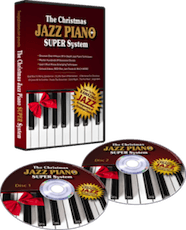 Hey Christmas piano and jazz piano fans!
We are now only 4 days away from the release of the brand new "Christmas Jazz Piano Super System" 2 DVD set.
The course officially releases on Monday, November 3rd, 2014 at 10am EST (that's New York time).
Update: The Christmas Jazz Piano Super System is LIVE!!
You can get access to it by clicking right here
As a reminder, I am including some very special and limited bonuses exclusive to launch week.
You'll learn more about them on Monday morning. 
I'm also very excited to announce a special unadvertised bonus right now…
Free Shipping Worldwide
Yes, you read that right! I'll be including FREE shipping on the DVDs right to your door. Plus, I'll ship your DVDs to anywhere in the world via first class mail.
This specific bonus will be limited to the first 150 buyers though. (First come first serve.) 
As a result, If you want to improve your skills playing Christmas piano I highly recommend that you don't delay.
I don't release products very often but when I do they sell VERY quickly.
My Jazz Masters Method DVD literally sold out on the 1st day I released it.
If you're on my email list you'll get a special email sent right to your inbox. If you're not on the list there will be links posted on this site where you can get access to the course.
Celebrate With A Free Christmas Backing Track
To celebrate the upcoming launch I wanted to share with you the actual backing track I used on my arrangement of God Rest Ye Merry Gentlemen.
I had a lot of people write me and tell me they loved the way it sounded. So, I thought it would be fun to share it here with everybody to celebrate the holiday season. 🙂
This track features drums and bass and use all the cool reharmonizations and chords I threw into the arrangement. I hope you enjoy jamming with it!
By the way, here's the video again where I demonstrate using the track. You can take a listen, learn, and explore my version of "God Rest Ye Merry Gentlemen".
More Course Samples
Also, here's another solo piano sample of some of the course material featuring "The First Noel".
I show you a bunch of cool chords in that video. I also, answer several of the most common questions about "The Christmas Jazz Piano Super System" in this Christmas lesson right here.
If you have any questions please leave a comment below in the comment area. Or, if you'd like you can always send an email using the contact form above.
My team and I are always happy to help. We are committed to your musical success!
See You On Monday Morning
Enjoy today's jam track!
I"ll see you right here on Monday, November 3rd, 2014 at 10am EST (New York time) for the release of "The Christmas Jazz Piano Super System" 2 DVD set.
We're going to make some awesome music together this holiday season!